Top 10 Trending Cryptocurrency to Buy Now
Several investors use cryptocurrencies to handle payments and perform transactions. They also invest in cryptocurrencies to ensure a long-term and reliable storage of value.
There are thousands of crypto assets available for purchase in the market. However,  this article highlights the 10 top trending cryptocurrency to buy now.
1. Lucky Block (LBlock)
Lucky Block, which describes itself as the fastest-growing cryptocurrency, comes first on our list of top trending cryptocurrency to buy now. At press time, the price of the crypto asset is $0.00333. In the last 24 hours, the asset has gained 32.01%.
The cryptocurrency plans to be a global gaming platform where players use Blockchain Protocols on the Binance Smart Chain. According to the platform, games of chance should not be restricted by geography or related to local financial systems.
Instead, it aims to improve game transparency and fairness by establishing games and contests where every player and participant has a higher chance of winning while also providing a viable investment strategy for ticket buyers and contributing to the community.
The gaming platform will reduce draw times and allow for many draws each day, improving players' chances of winning while lowering lottery costs. In addition, low-margin operations will enable players to participate in lotteries that correspond to their risk appetite, giving them a better chance of winning.
The Lucky Block Android app was recently released on the Google Play Store, allowing anyone worldwide to try out its lotto-style game. The app already received 279 reviews and a perfect five-star rating less than an hour after its release on the store. Insiders believe that downloads are already in the thousands.
An older version of the application was recently released to a community of testers. After that, the Lucky Block website made it publicly available for download.
2. Cardano (ADA)
Cardano comes in second on our list of trending cryptocurrency to buy now. It is a blockchain platform based on the Ouroboros consensus system, which validates transactions without a lot of energy. The project has ensured that all technology developed goes through a peer-reviewed research process, allowing for bold ideas to be vetted before implementation.
At press time, the asset's price is $1.218. In the last 24 hours, it has gone up by 3.67% and has seen an increase of 2.5% during the previous seven days.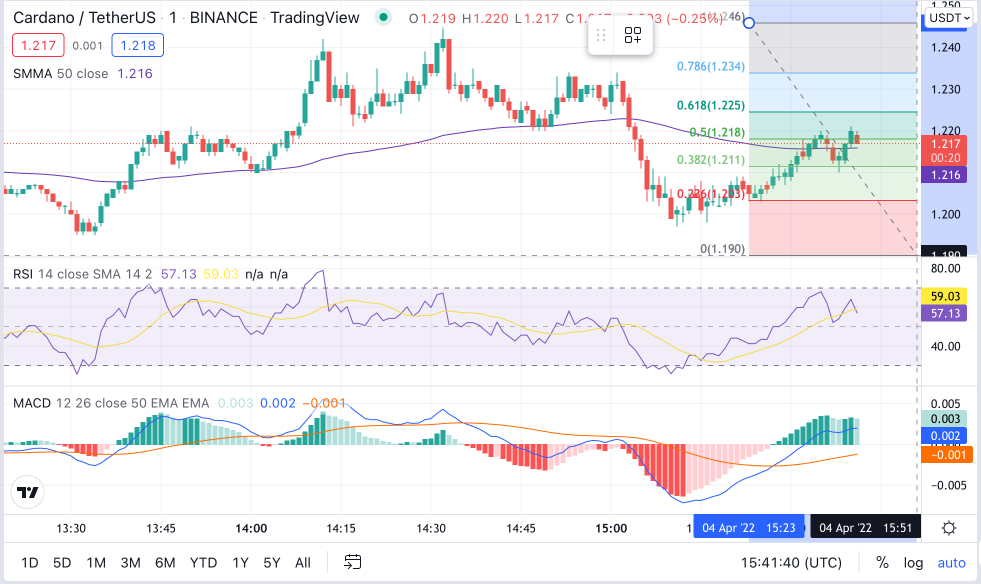 Cardano is attempting to address the flaws in Bitcoin and Ethereum. It aims to be a more advanced version of the Ethereum concept, with a scalable, adaptive, and energy-efficient blockchain.
ADA allows its owners to participate in the network's operation. As a result, holders of the asset can vote on any proposed software updates.
Furthermore, Snoop Dogg, a well-known American musician, has advanced in his cryptocurrency journey by betting on Cardano. Snoop Dogg, who has been working in the NFT space since last year, has become a household name due to his unwavering support and multimillion-dollar NFT collections, most of which are kept on Ethereum. The hip-hop icon is now focusing on the Cardano blockchain for his next foray into the NFT industry.
Clay Nation, collaborating with Snoop Dogg and NFT artist Champ Medici to debut the NFT line, broke the news on Twitter.
Various souvenirs, previously unreleased songs from the rap legend, and other limited-edition products will emerge from this cooperation. Additionally, Cardano creator Charles Hoskinson appears in the opening video with two Clay avatars made for Snoop Dogg and Champ Medici, endorsing the collaboration.
3. Avalanche (AVAX)
Avalanche, characterised as an open, programmable smart contracts platform for decentralised applications, is the next on our list of trending cryptocurrency to buy now.
At press time, AVAX price is $92.68, and in the last 24 hours, the digital currency has dipped by 2.84%.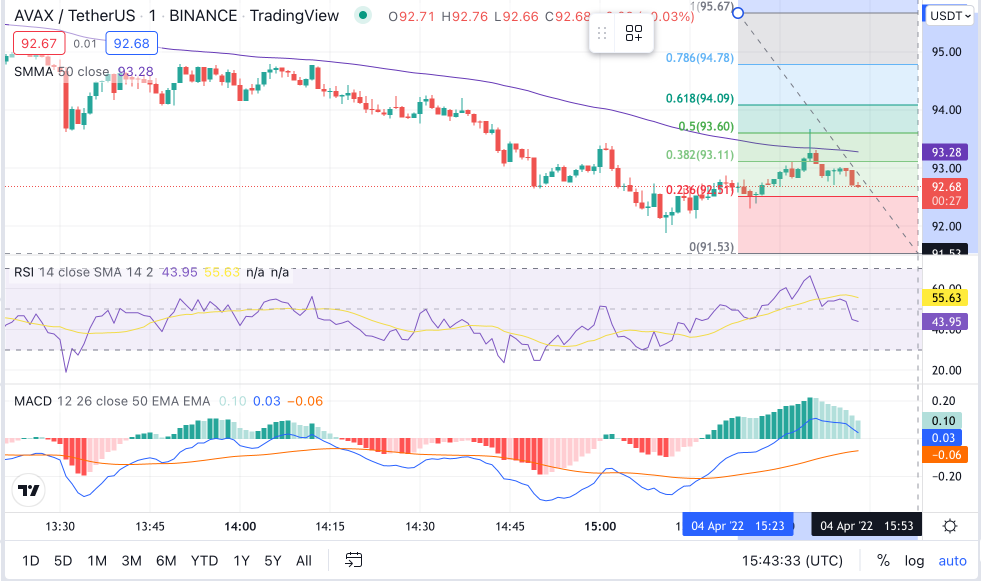 Avalanche is a layer-1 blockchain that serves as a platform for decentralised applications and custom blockchain networks. Avalanche's network comprises three chains: the Platform Chain (P-Chain), which organises validators and subnet construction; the C-Chain, which develops smart contracts; and the X-Chain, which manages and exchanges assets.
The platform is a competitor to Ethereum, and it aspires to dethrone Ethereum as the most popular smart contract blockchain. It intends to offer a higher transaction output of up to 4,500 transactions per second (TPS) while maintaining scalability.
To promote its new "Subnet" feature, the Avalanche Foundation has established a $290 million incentive campaign called Multiverse. The Avalanche Multiverse program, supported with four million AVAX tokens, aims to encourage the network's subnet expansion.
As a result, the Avalanche Foundation focuses on blockchain-enabled games, non-fungible tokens (NFTs), and decentralised finance (DeFi) applications. Defi Kingdoms, a blockchain-based game with its currency, will be the first to use this technology, shifting its operations and a new crystal coin to its appchain subnet. In addition, the project will give AVAX incentives worth up to $15 million.
4. Vechain (VET)
Next on our list of top 10 cryptocurrencies to buy is Vechain. At press time, VET is trading at $0.0767. In the last 24 hours, it has surged 0.22%.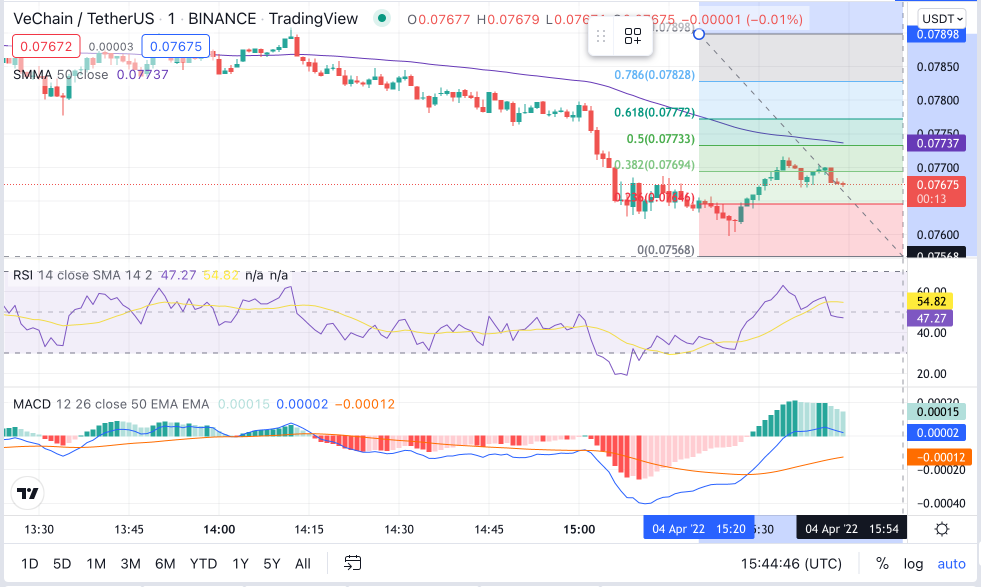 VeChain aims to create an ecosystem that combines distributed governance and Internet of Things (IoT) technologies to address critical data concerns for various global enterprises, including healthcare, energy, and food and beverage.
The platform manages and creates value using two tokens, VET and VTHO, based on the VeChainThor public blockchain. VET generates VTHO and serves as a value store and transfer medium. VTHO is utilised to cover GAS charges, removing the requirement for VET while writing data.
Draper University, venture capitalist Tim Draper's immersive entrepreneurship program, has partnered with VeChain, the world's top blockchain application platform focusing on enterprise adoption, to offer two outstanding programs for participants to develop and scale Web3 firms.
The VeChain Fellowship will be a four-week online certificate program for prospective entrepreneurs who want to learn about entrepreneurship and blockchain from Silicon Valley's top minds.
The second initiative is the Web3 Accelerator. It's for high-growth blockchain companies working on SmartNFT projects, DeFi, virtual worlds and gaming, and the Metaverse that already utilise or plan to use VeChainThor.
5. Solana (SOL)
Solana is one of our top 10 cryptocurrencies to buy now since it addresses some of the essential concerns many blockchains face. It is described as one of the quickest cryptocurrency networks, executing and completing transactions at over 50,000 per second (TPS).
At press time, SOL is trading at $130.07, dipping 3.23% in the last 24 hours.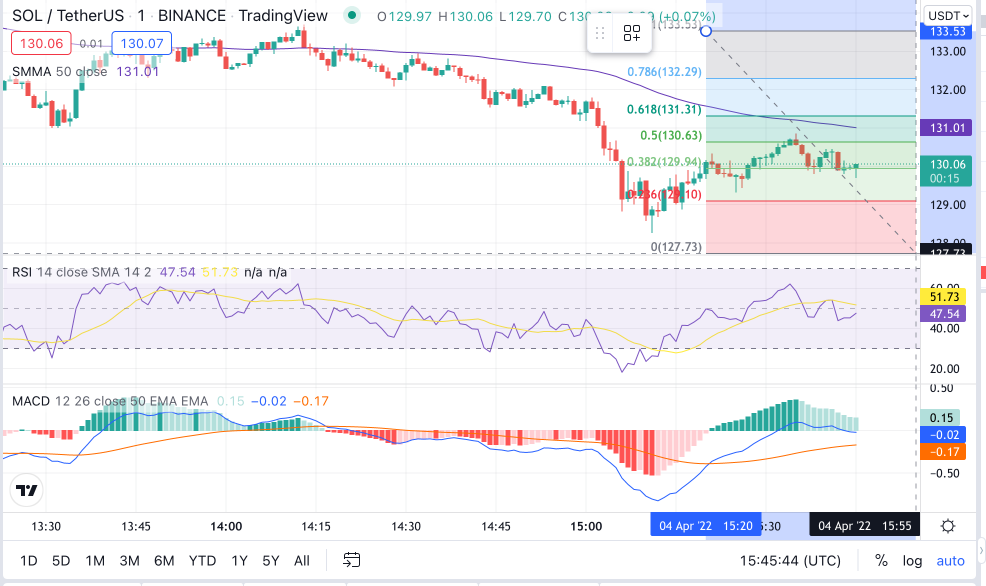 Solana is a highly active open source project that uses the permissionless feature of blockchain technology to deliver decentralised finance (DeFi) solution. The protocol aims to provide maximum scalability and processing speed while keeping transaction costs low.
Retail and institutional investors are equally interested in the project because of its unique hybrid consensus mechanism. The Solana Foundation keeps working hard to make decentralised finance more accessible on a bigger scale.
Furthermore, Coinbase's self-custody crypto wallet now supports Solana ecosystem coins, broadening the range of support for the MetaMask competitor.
The first non-Ethereum-compatible crypto asset on Coinbase Wallet is Solana program library (SPL) tokens, Solana's counterpart of Ethereum's ERC-20 tokens. Previously, the browser extension and app only supported Ethereum Virtual Machine networks like Polygon, BNB Chain, and Avalanche.
6. Terra (LUNA)
Terra is next on our list of top 10 cryptocurrencies to buy now. At press time, Terra's price is $110.56, down 2.23% in the last 24 hours with a 24-hour trading volume of $2 Billion.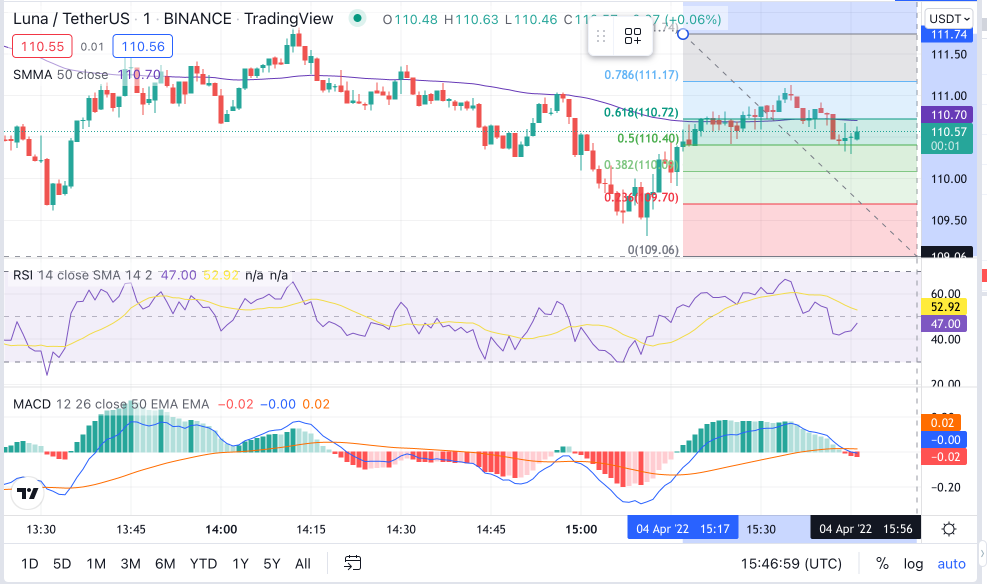 The asset is a recent initiative, but it has already created sensations in the cryptocurrency world. This is because the platform functions as a blockchain, allowing for the creation of stablecoins and a wide range of assets on its network.
It is a blockchain that uses the Cosmos software development kit to allow users to create fiat-pegged stablecoins. The platform also provides smart contract functionality for asset production, and these coins utilise the network's process.
Terra states that its use of fiat-pegged stablecoins sets it apart from the competition by combining the borderless benefits of cryptocurrencies with fiat currency's daily price stability.
Furthermore, thanks to an algorithm that adjusts stablecoin supply in response to demand, it retains its one-to-one peg.
Also, FTX Ventures, Jump Crypto, and Animoca Brands led a $25 million funding round for MetaMagnet Ltd, the operator of C2X. The universal blockchain platform, C2X, is built on the Terra blockchain; it is a global pioneer in web3 game infrastructure development, pushing the industry ahead through decentralised money.
Terra, an application-specific blockchain based on the Cosmos SDK and Tendermint consensus, ensures that all assets and data are secure, transparent, and tamper-proof.
7. The Sandbox (SAND)
The next on our list of top 10 trending cryptocurrencies to buy now is the 3D Metaverse game, The Sandbox. SAND price at press time is $3.41. The native token SAND has been down 0.48% in the last 24 hours.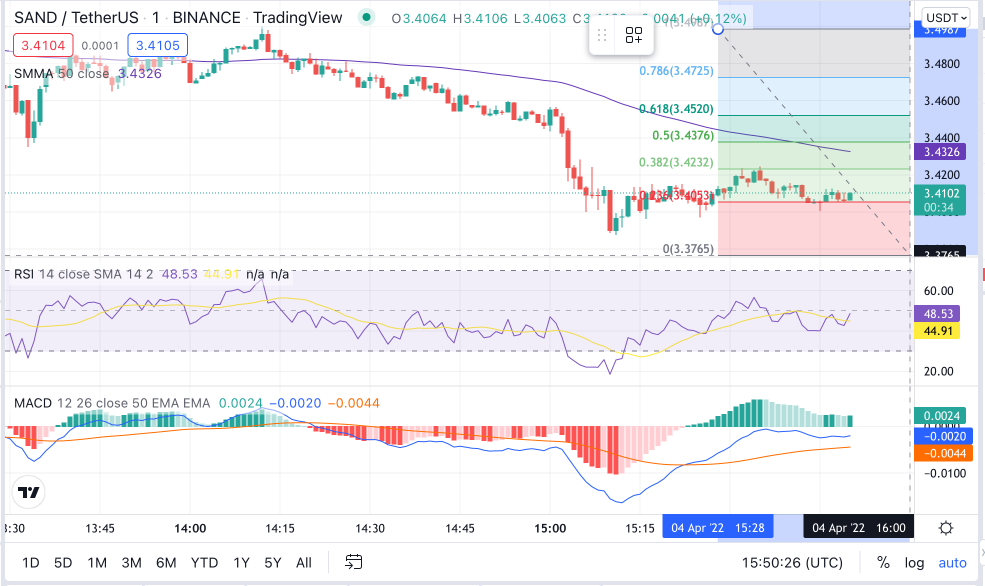 The Sandbox is an Ethereum-powered decentralised NFT gaming metaverse that allows non-techies to create, sell, use, and monetise virtual reality NFTs.
By staying focused on user-generated content, the game creates a metaverse of engaged users contributing to the platform's continued evolution. The Sandbox also promotes decentralised governance by offering the SAND token, allowing users to voice their opinions on the project's progress.
HSBC Bank recently purchased a piece of virtual land in The Sandbox metaverse. This was part of a newly announced deal with the virtual world platform.
8. THORChain (RUNE)
THORChain, the decentralised protocol that helps users swap assets in a permissionless setting, is next on our list of top trending cryptocurrency to buy now. At press time, RUNE is trading at $10.57. However, it has been down 5.56% in the last 24 hours, with a 24-hour trading volume of $154 million.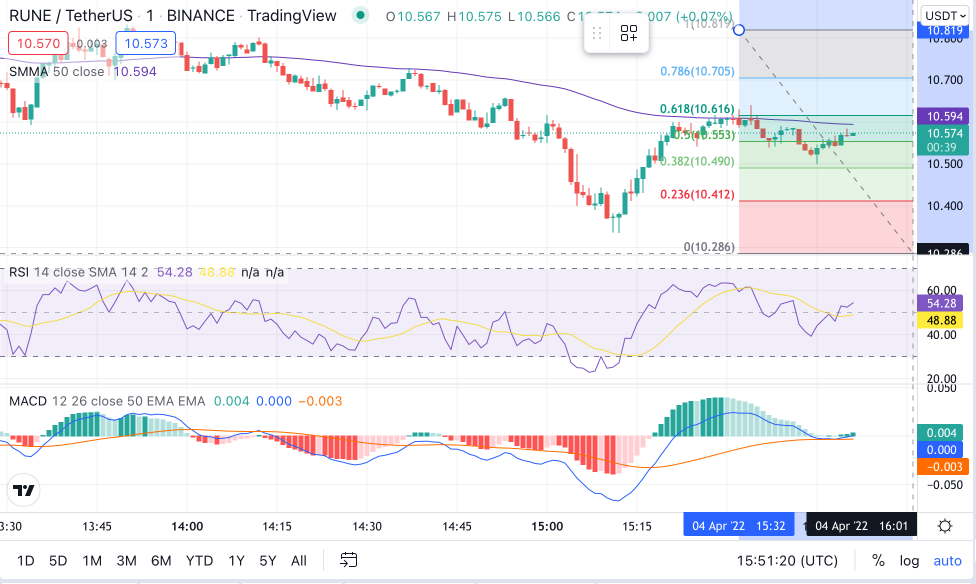 It is a decentralised liquidity protocol that allows users to swap digital currencies across multiple networks with complete control over their assets.
The network takes а unique method of reducing "impermanent losses", or the often fleeting losses that liquidity providers face while contributing to liquidity pools. It provides this reduction by collecting a slip-based fee that ensures that liquidity is kept where it is needed.
Furthermore, the inclusion of Terra (LUNA) into the THORChain protocol has aroused the RUNE community's curiosity. The platform can now support all Cosmos-based projects due to this integration.
The Terra integration brings the LUNA token and the TerraUSD (UST) stablecoin to the asset's ecosystem, giving users more options for trading and staking. In addition, six wallet types and eight blockchains are now supported by THORChain's THORSwap cross-chain decentralised exchange.
9. Waves (WAVES)
Multipurpose blockchain platform Waves is next on our list of top trending cryptocurrency to buy now. At press time, the Waves price is $40.09. However, WAVES has been down by 15.19% in the last 24 hours, with a 24-hour trading volume of $1 billion.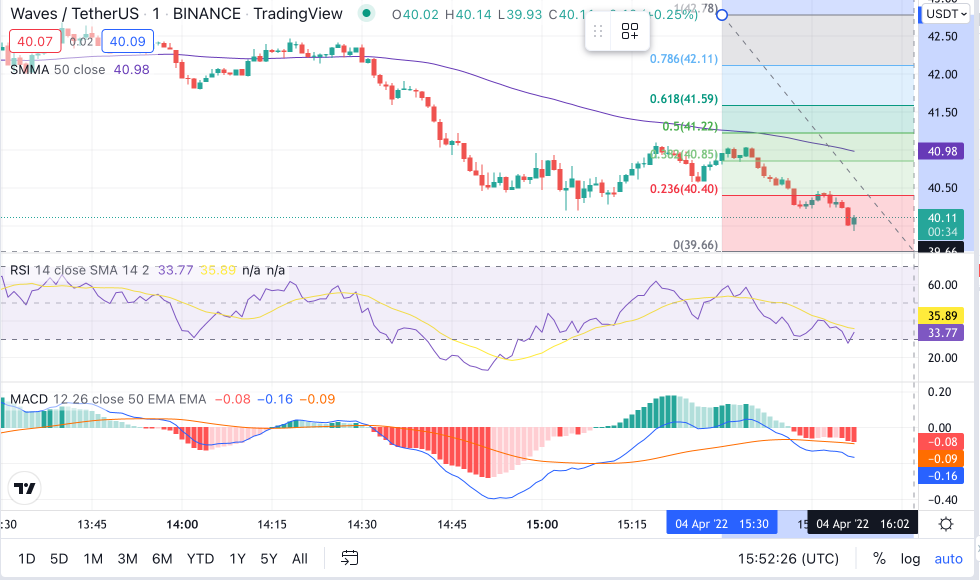 The blockchain platform can be used for various things, including smart contracts and decentralised applications (DApps). Waves is used to attract potential business clients looking to use blockchain to improve processes or create new services.
Allbridge just announced its new relationship with the blockchain platform through its Twitter account. According to the hub, Waves is a seasoned market participant operating since 2016. Therefore, the Waves blockchain platform provides users with a safe and scalable experience.
The DAO-style multichain hub is a simple, modern, and dependable technology for transferring assets between networks. It connects Ethereum Virtual Machine (EVM) and non-EVM compliant blockchains to cover L2 and Non-Fungible Tokens (NFT) transactions.
Allbridge will be able to provide a variety of DeFi features with Waves on board. According to Allbridge, the goal is to provide a one-of-a-kind bridge between Waves and non-EVM networks such as Near Protocol, Solana, and Terra.
10. PancakeSwap (CAKE)
The last on our list of trending cryptocurrency to buy now is PancakeSwap. PancakeSwap is a decentralised finance (DeFi) program with an automated market maker (AMM) that allows users to swap tokens while providing liquidity and earning fees. The CAKE token, created by PancakeSwap, is a BEP20 token operating on the Binance Smart Chain (BSC) network.
At press time, CAKE 'sprice stands at $9.60. In the previous 24 hours, it has surged by 6.92%.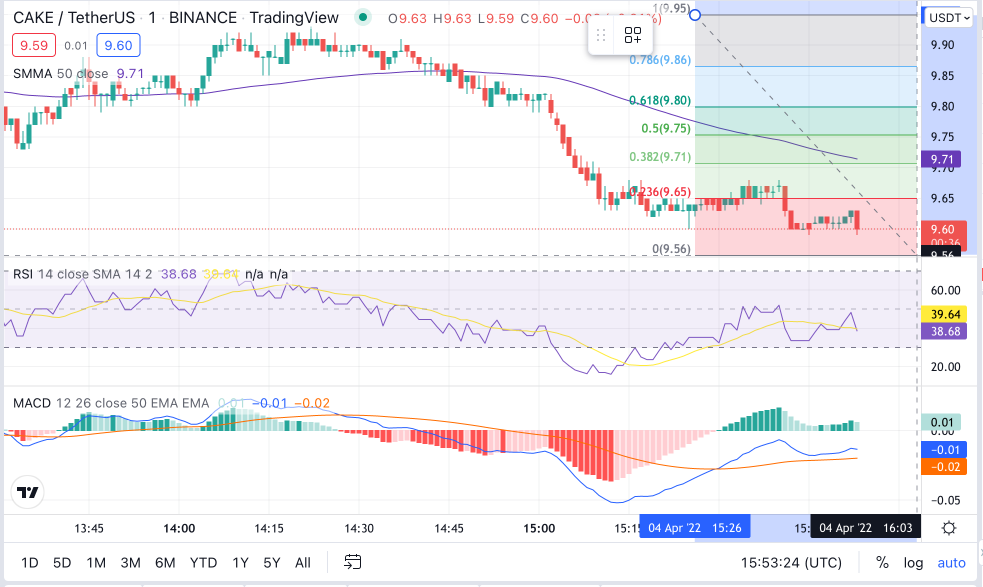 Users can earn money by cultivating LP tokens and staking their CAKE to win rewards by being a liquidity provider. The asset's primary goal is to encourage people to provide liquidity to the PancakeSwap platform.
Mars4, a blockchain-based Play-to-Earn game project, has been listed on PancakeSwap. The project has three parts: land plot NFTs, MARS4 dollars, and the planned game. These features give users a virtual Mars experience and methods to earn money from it.
The game project, MARS4, is intended to be a survival game in which players must battle the harsh reality of Mars, explore the vast area, and construct their dream structures. The game's developers' principal goal is to build an entertaining and engaging game that allows players to profit financially.
Read More
How to Buy Lucky Block
Where to Buy Cardano
Where to Buy Sandbox
Powered by WPeMatico