5 Top Web 3 Crypto For High Profits
Web 3.0 prioritises decentralisation, and cryptocurrencies are, by definition, decentralised. This is why cryptocurrencies are tightly linked to Web 3.0. Experts believe crypto assets will play a crucial role in developing Web 3 and the metaverse. Hence, this post will look at 5 top Web 3 cryptos for high profits, suitable for long-term investment.
Lucky Block (LBLOCK)
Lucky Block is our top selection for the top Web 3 crypto for high profits.
At press time, the price of the Lucky Block is $0.00208, an increase of 6.91% in the last 24 hours. The digital asset slumped 25.70% in the past 7 days and is 79.05% below the all-time high of $0.01
Lucky Block aims to be a global cryptocurrency lottery platform that uses the Binance Smart Chain (BSC) and Blockchain Protocols. According to Lucky Block, Lottery games should not be limited by geography or tied to local banking systems. Instead, the online gaming ecosystem should be fair and transparent.
​By locking in their tokens, token holders can determine whether or not they want to participate in the daily jackpot. Then, when the lottery is held, one individual wins 70% of the jackpot, 10% of the jackpot is donated to charity, 10% is spent on marketing, and 10% is distributed to all LBLOCK holders, based on the proportion of tokens they own.
The Lucky Block Android app was recently released on the Google Play Store, making the lottery-style game open to anybody globally, except in 11 countries (Middle East) where it is prohibited to play games of chance for monetary benefit. It is immediately available for download to millions of smartphone and tablet users worldwide.
Polkadot (DOT)
Polkadot comes in second on our list of top Web 3 crypto for high profits. Its price today is $18.11. The asset has dipped by 1.02% in the past 24 hours and 10.13% in the last 7days.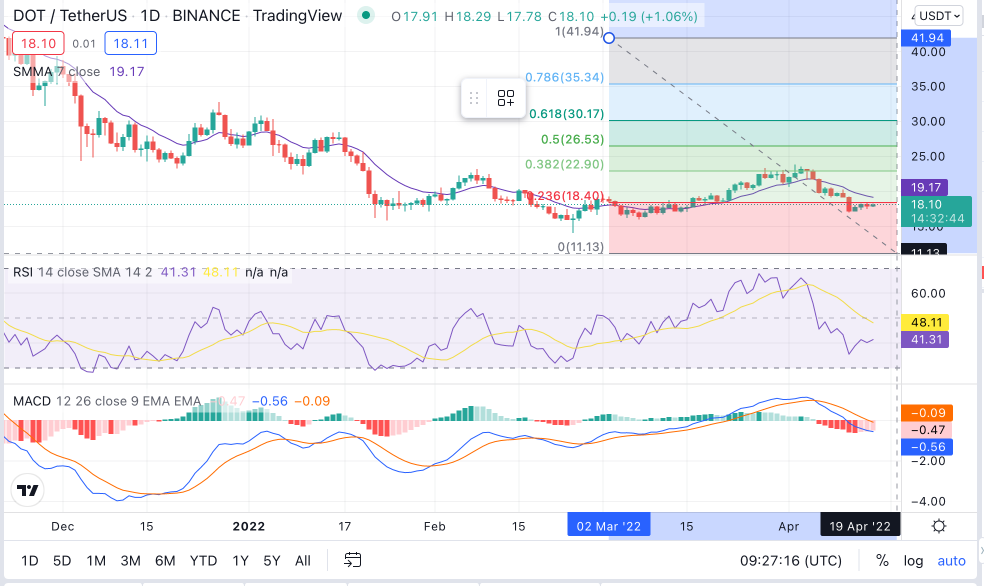 Polkadot is a sharded multichain technology that connects and secures a network of specialised blockchains. It is a relay chain architecture, which means it can communicate with numerous blockchains at once (parachains). As a result, Polkadot's security will benefit investors, as will the company's cheap fees and throughput.
The network offers a user-driven governance mechanism in which all token holders have a say in administering the network. Polkadot allows teams to design their blockchain governance based on their needs and changing situations. Nominators, validators, and collators all have different roles to play in helping to protect and sustain the network while also preventing bad conduct.
Enjin, a blockchain startup, has announced the launch of Efinity, the Polkadot network's first non-fungible asset parachain (NFTs). Over 100 blockchain-based games and applications will be available in the Efinity ecosystem, the first of which is CryptoBlades, a play-to-earn NFT game with over 1 million users.
Polkadot parachains allow individual projects to build their customised blockchains at scale, making them a viable alternative to NFT-based platforms that are sometimes overburdened by massive transactions.
Filecoin (FIL)
The next of our 5 top Web 3 crypto for high profits is Filecoin.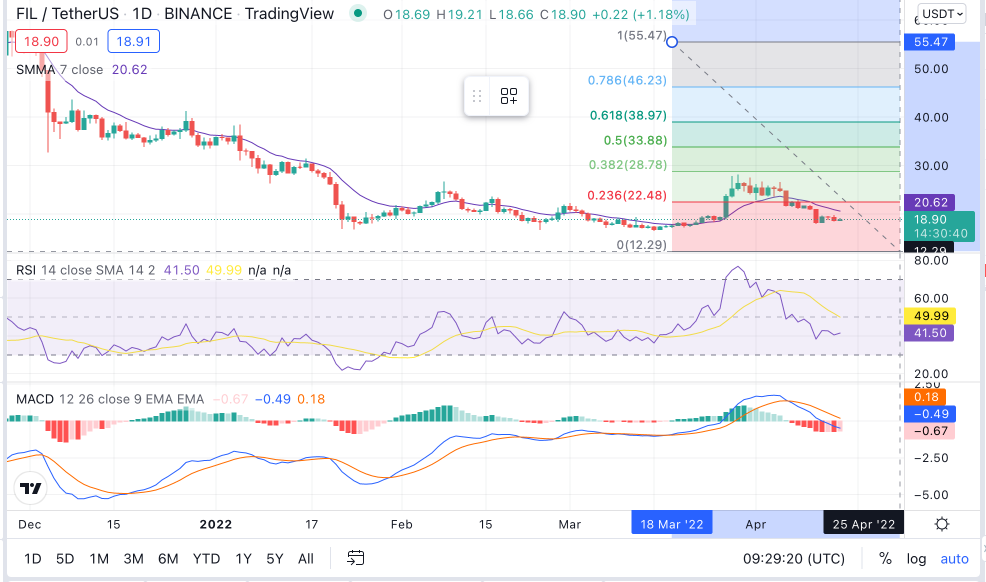 Filecoin (FIL) is a cryptocurrency that powers the Filecoin network. This decentralised peer-to-peer file storage network promises to allow anybody to store, retrieve, and host digital data.
At press time, the asset's price is $18.91. In the last 24 hours, Filecoin has gone down by 2.18%. It has also slumped by 16.17% over the previous 7 days. FIL is currently 91.97% below the all-time high of $237.24.
Decentralised storage systems like Filecoin allow users to be their data custodians while also making the internet more accessible to people worldwide. Filecoin incentivises players to act honestly and store as much data as possible. Furthermore, participating in the Filecoin network by mining and holding is directly tied to receiving more block rewards.
Protocol Labs, the creators of the decentralised storage technologies Filecoin and IPFS, has announced the first cohort of the Filecoin Techstars Accelerator. This prestigious accelerator has selected 12 startups to participate in a 13-week intensive programme that will help with hands-on mentorship, curated entrepreneurial content, and programming.
The programme includes up to $120,000 in funding, and access to Techstars' network of mentors, investors, alumni, and corporate partners. It will run on a virtual and in-person hybrid basis from Techstars' Seattle site in Startup Hall on the University of Washington campus.
Basic Attention Token (BAT)
The Ethereum token that powers Brave software's digital advertising platform, Basic Attention Token, is next on our list of 5 top Web 3 crypto for high profits.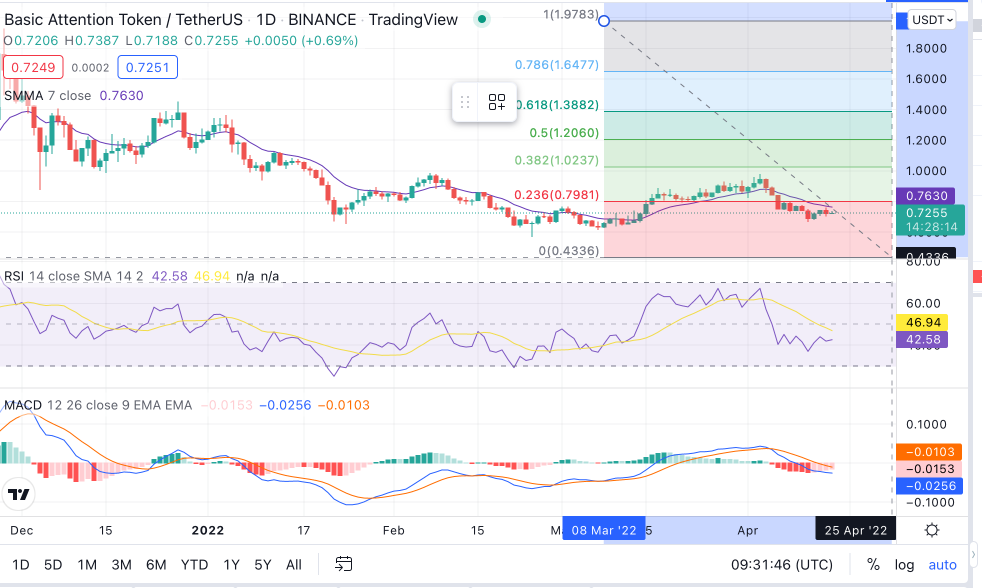 At press time, BAT has surged 2.59% to $0.7251 in the last 24 hours.
The Basic Attention Token (BAT) is an integral part of the Brave ecosystem. Its essential goal is to build a fair and rewarding system for all players in the digital advertising sector, including advertisers, publishers, and internet users.
Basic Attention Token attempts to tackle the problem of online advertising by giving consumers more control over their choices and money. Brave's free web browser users can choose to have the ads they view replaced with ads from Brave's ad network. Advertisers then compensate users with BAT in exchange for their time.
Orion Bridge recently added Basic Attention Token (BAT) and Yearn Finance (YFI) to its network. Orion Bridge is the first peer-to-peer atomic swap bridge, allowing users to exchange native assets across several blockchains without any restrictions, delays, refused orders, blocked money, or vulnerabilities.
Due to the integration, users can now bridge ORN, ETH, USDT, USDC, LINK, MATIC, FTM, COMP, SUSHI, COTI, SHIB, 1INCH, UNI, AAVE, BAT, and YFI between the Binance and Ethereum Smart Chain networks.
Theta Network (THETA)
Theta is rounding off our list of 5 Top Web 3 crypto for high profits.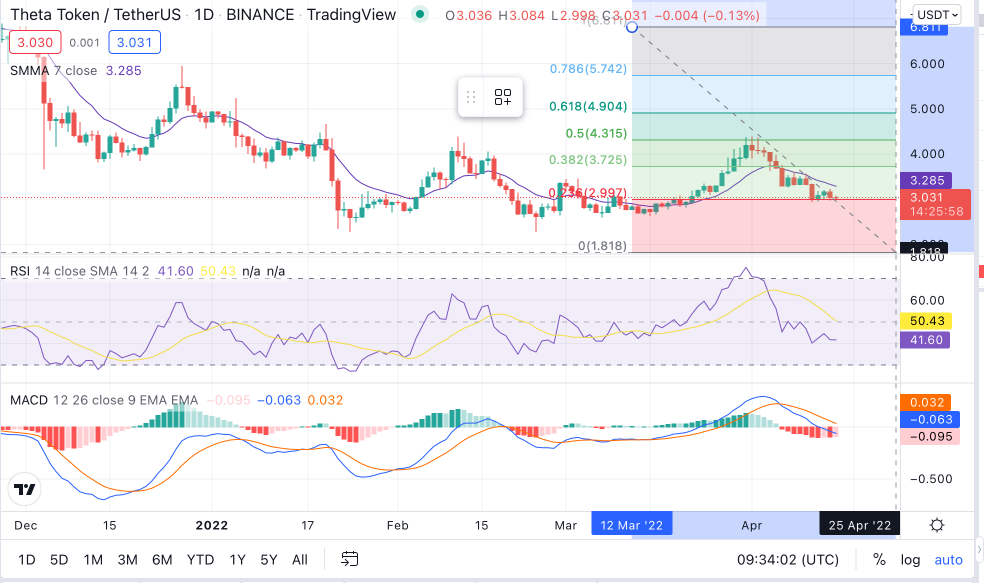 At press time, THETA is $3.031. In the last 24 hours, the asset has gone down by 5.04%. Theta Network's price has fallen by 13.52% in the past 7 days and is 80.86% below the all-time high of $15.90.
Theta is a blockchain-based network created specifically for video streaming.
The Theta mainnet is a peer-to-peer (P2P) network where users share bandwidth and computer resources.
To commemorate its reality show's 20th anniversary, American Idol has teamed up with Theta Network to launch NFTs.
The NFTs will be available as digital trading cards in nine packs for $99. Each bundle will have a candidate from the top 14 of season 20 of American Idol. In addition, holders of the NFTs will participate in a five-week competition in which they will compete for rewards based on how far they travel.
The grand prize is a "Ticket to Hollywood NFT", which allows anyone with the winning contestant's NFT to redeem a genuine ticket to Hollywood.
Read more:
How to Buy Lucky Block Coin
Where to Buy Basic Attention Token (BAT)
Powered by WPeMatico