5 Cryptocurrency to Buy for Price Boom This Weekend – April Week 3 2022
The cryptocurrency market has had a topsy-turvy week. Its total cap is $1.97 trillion, representing a fall of 2% in the past 24 hours, a 2.6% rise in three days, and a 5% fall in a week. Most of the biggest coins have fallen along with the market, including bitcoin (BTC), Ethereum (ETH) and Solana (SOL). However, with the market still carrying some momentum over the past 30 days as a whole, there's a chance it could rebound. As such, we've put together a list of the 5 cryptocurrency to buy for a price boom this weekend.
5 Cryptocurrency to Buy for Price Boom This Weekend
1. Lucky Block (LBLOCK)
LBLOCK is up by 5% today, reaching $0.00216565. This represents a 25% fall in the past week and a 44% rise in the last 30 days. It is, however, up by 400% since launching at the end of January.
LBLOCK is the native token of the Lucky Block lottery platform. Running on Binance Smart Chain, the latter will hold its first lottery draw later this month. Regular draws will follow afterwards, with users able to enter any draw by spending LBLOCK, giving them the chance to win 70% of its fund. Meanwhile, all holders of LBLOCK equally share 10% of each and every draw's kitty.
Based on its early promise, LBLOCK has just recently reached the milestone of 50,000 holders. In February it also boasted becoming the fastest ever cryptocurrency to reach a market cap of $1 billion.
Gm! 🤞

We recently passed the milestone of 50K holders! And tonight, we are hosting a party on that occasion! 🥳

Make sure you join us:

Venue 👉 https://t.co/4MigxHlmDP
Time 👉 7pm BST ⏰

Have a great day! 🦾 pic.twitter.com/5FU3ZD3pJQ

— Lucky Block 🤞 (@luckyblockcoin) April 11, 2022
Lucky Block continues to pass some important milestones as it approaches its first ever lottery. Firstly, it has launched its Android app in beta, and is awaiting approval for its iOS equivalent.
13.04 – project updates:

👉 iOS app – We're currently implementing changes that were requested by Apple
👉 Web app – We're integrating 'vote and claim' functionality as well as a fiat ramp
👉 Android app – 1.3 app beta is available now on Google Play – https://t.co/CUX7WLsDTx

— Lucky Block 🤞 (@luckyblockcoin) April 13, 2022
On top of this, it has also recently launched a smaller side-lottery, giving purchasers of 10,000 NFTs the chance to win $1 million or a Lamborghini.
The best opportunity in the #NFT market 🤩

The only chance to win a #lambo or $1,000,000 by simply purchasing an NFT! 💪

Don't be the person who misses out on this occasion… Get yours now at https://t.co/jRlmqSyNx1 #NFT #crypto #NFTGiveaway pic.twitter.com/TU4JuZW31G

— Lucky Block 🤞 (@luckyblockcoin) April 13, 2022
2. Bitcoin (BTC)
BTC is down by 3% today, sinking to $40,149. It's also down by 7% in the past week, but up by a modest 2% in the past month.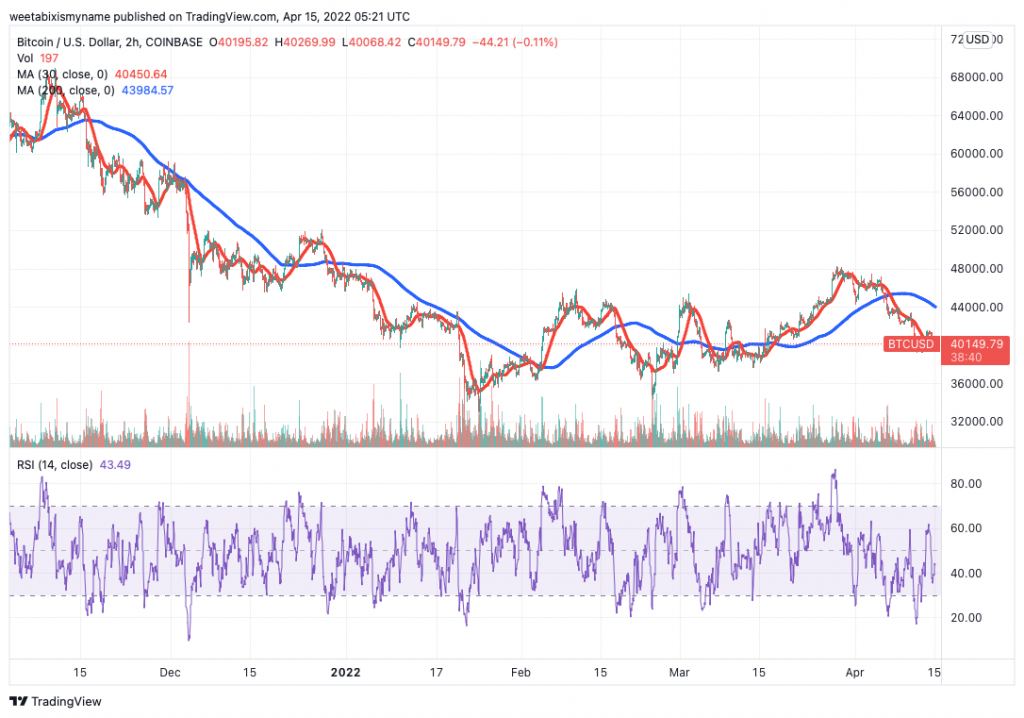 BTC's indicators suggest that it's coming to the end of a small down-cycle. Its relative strength index (in purple above) is risen from 20 in the past couple of days to just over 40. This means it's still a little oversold, so could shoot back up soon.
And BTC always remains a safer cryptocurrency during difficult times for the market. It's 'only' 41% down from its all-time high (of $69,000), whereas alts such as solana (SOL) and cardano (ADA) are down by 60% and 69%, respectively.
More importantly, BTC is always what leads new bull markets, such is its status. Bigger investors have also continued to accumulate during the current period, with the amount of BTC that hasn't moved for at least 12 months now passing its all-time high of 64%.
The amount of #Bitcoin that has not moved for 12months or more has now equalled its all-time high of 64%

Last time this happened price was $10-11k before a huge rally pic.twitter.com/GX9LfNVlRl

— Alistair Milne (@alistairmilne) April 5, 2022
Such accumulation is laying the foundation for a potentially large rally, with industry figures continuing to raise impressive price targets for BTC this year. This includes Nexo's co-founder Antoni Trenchev, who thinks bitcoin will reach $100,00 by the year's end.
Do you think #Bitcoin will hit $100k this year? $NEXO Co-Founder and Managing Partner @AntoniNexo believes it's possible. Check out his remarks to @CNBC https://t.co/Ng3BMHOKiu

— Nexo (@Nexo) April 14, 2022
If such analysis is true, then BTC is bound to rally big at some point or other this year. That's why we've included it in our list of 5 cryptocurrency to buy for a price boom this weekend.
3. Ripple (XRP)
At $0.777642, XRP has jumped by 5% in the past 24 hours, one of only a small number of major coins to rally today. It's also down by 1% in the past week and up by 1.5% in the past month.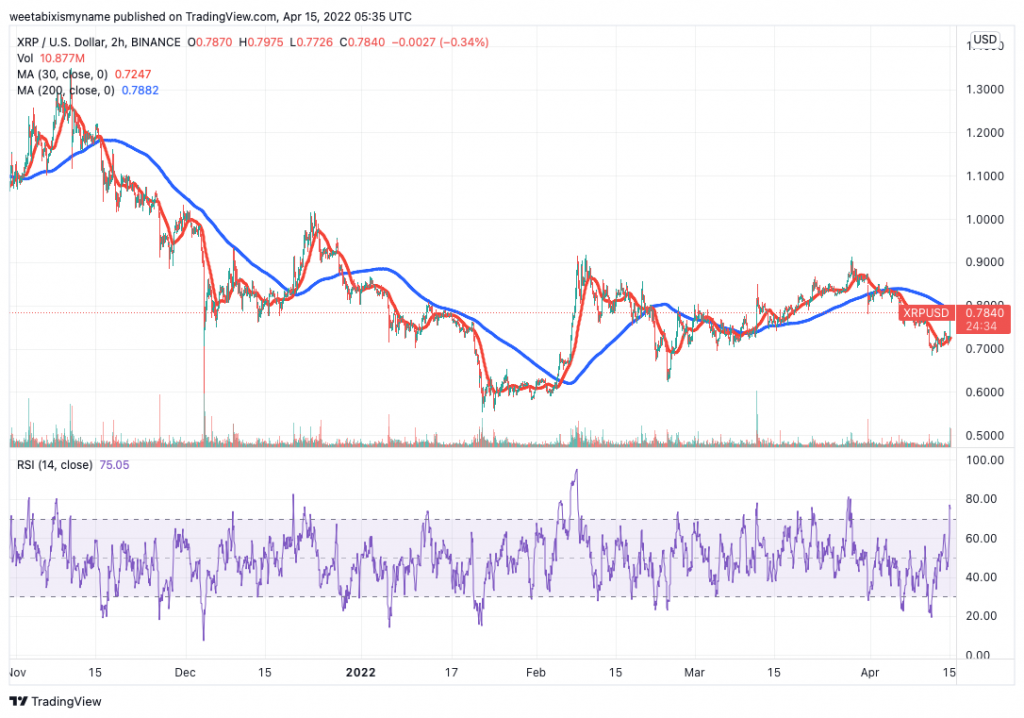 XRP's RSI has jumped almost to 80 in the past few hours, indicating some very good momentum. Its 30-day moving average (in red) has also turned upwards. This suggests the beginnings of a possible rally.
Another positive breakthrough in Ripple's case against the SEC is the main reason for today's surge. Firstly, Judge Netburn recently denied an SEC motion that would prevent the regulator from having to produce emails related to an important speech given by William Hinman in 2018, when the latter set out the SEC's view that ethereum is not a security.
Judge Netburn sticks to her guns on the DPP issue and re-re-re-Orders the production of the emails related to Hinman's speech.

The Order includes some uncharacteristic SEC chastising from our Judge (I'm mirroring her in stating that as politely as possible). 🙂 (1/2) https://t.co/gahWaijVqw pic.twitter.com/Di3JbQsdje

— Jeremy Hogan (@attorneyjeremy1) April 11, 2022
Reflecting on such developments, Ripple CEO Brad Garlinghouse said yesterday that the case is going "exceedingly well," and much better than Ripple had hoped. Combined with previous good news (such as Judge Torres upholding Ripple's right to present its fair notice defence), this suggests that Ripple could secure a favourable outcome. If it does, XRP will rally much, much higher than it's rallying now.
Live from #PBWS2022, @bgarlinghouse sat down with @cnbc's @ryan_browne_ to talk crypto regulation, Ripple's global traction and use cases that he sees growing across the industry. pic.twitter.com/ouQYhY3B5n

— Ripple (@Ripple) April 14, 2022
4. Dogecoin (DOGE)
DOGE is up by 2.5% in the past 24 hours, reaching $0.145118. It's also up by 28% in the last 30 days.
DOGE is benefitting, yet again, from the actions of Tesla CEO Elon Musk, who has launched a hostile takeover bid for Twitter. Assuming that Musk does end up buying 100% of Twitter, we could potentially see him adding functionality to the social network that would, for example, enable users to tip each or pay for goods using DOGE.
Twitter just might get that Dogecoin payment after all. The Doge joke is not that funny anymore, is it?

— muneeb.btc (@muneeb) April 14, 2022
Needless to say, any such integration would be a massive boost for DOGE. This is why the market has already begun the process of pricing in such a possibility. But if Musk were confirmed as Twitter's new owner — which is certainly very far from being guaranteed — DOGE would rise much more aggressively. This is why we've included it in our list of 5 cryptocurrency to buy for price boom this weekend.
5. Zilliqa (ZIL)
ZIL is up by 1.3% in the past 24 hours, at $0.114207. It's also down by 15% in the past week, but up by a hefty 187% in the last 30 days.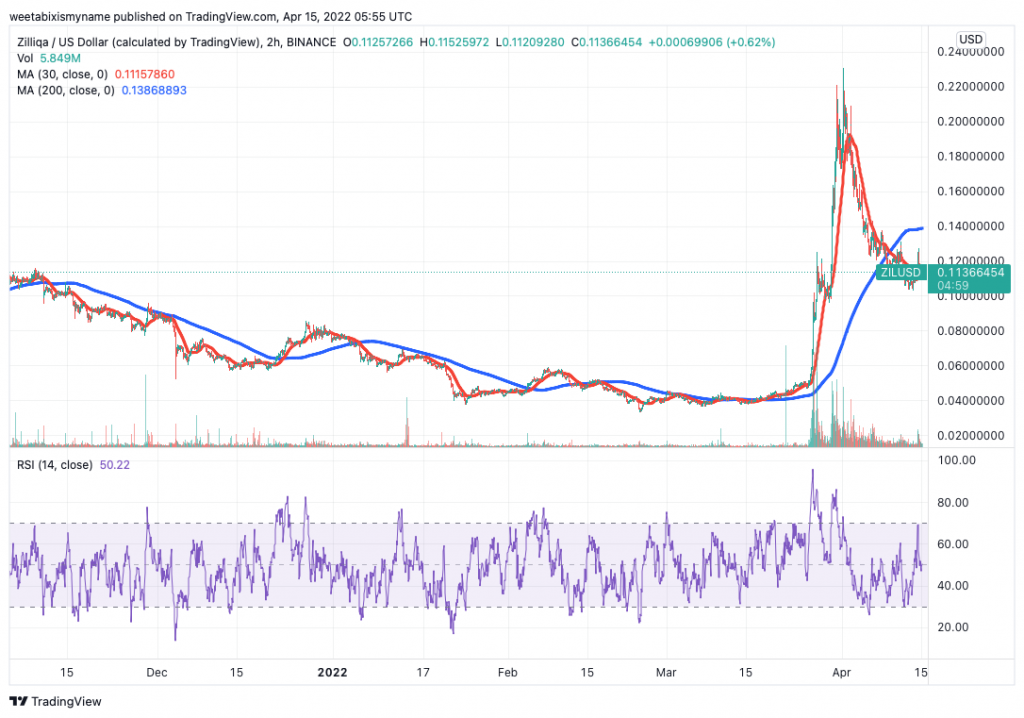 ZIL looks like it's on the cusp of rallying again, after suffering a much-needed correction in the wake of a surge at the end of March. Its RSI is rising again, while its 30-day average has begun turning upwards, potentially with a view to overtaking its 200-day average.
Zilliqa is a layer-one blockchain platform that's already capable of sharing, which improves its scalability compared to chains such as Ethereum. Its native token, ZIL, has rallied in recent weeks mostly because of the imminent launch of Zilliqa's metaverse, Metapolis. This is a metaverse-as-a-service platform, meaning that other companies and projects can use it to build their own virtual worlds and experiences.
We're making it official. #Metapolis, Zilliqa's highly immersive, customisable extended reality (#XR) #metaverse platform – Coming soon in 2022!

Here's what's in store for Metapolis. https://t.co/gCTmHeZ2OJ pic.twitter.com/dP7twwBYu4

— Zilliqa (@zilliqa) December 20, 2021
Hype surrounding Metapolis has been amplified by a number of recent partnerships and launches. Zilliqa recently teamed up with talent awards app Agora, while it has also partnered with fiat-to-crypto onramp provider Ramp. An example of a recent launch is Lunr, a Zilliqa-based DeFi platform that offers staking rewards of up to 25%.
#LunrFi🐖 is live!🚀

LunrFi is a suite of #DeFi tools that bring increased utility and rewards to $Lunr token holders. The first tool is Lunr staking, offering stakers sustainable yields of up to 25% APR!

Try LunrFi at https://t.co/NadUvHiZYD. pic.twitter.com/spQpJEMBGz

— Lunr Token (@LunrToken) April 12, 2022
Given just how quickly Zilliqa has been growing recently, there's no way we couldn't include it in our list of 5 cryptocurrency to see price boom this weekend.
Capital at risk
Read more:
How to buy cryptocurrencies
Where to buy Bitcoin
How to buy XRP
How to buy Lucky Block
Powered by WPeMatico