Next Crypto to Explode April 2022 Week 4
Despite the crypto ecosystem's volatility, many investors are looking for the next crypto to explode with the hopes of making maximum profits.
This review will explore the next crypto to explode with long-term exponential growth.
1. Lucky Block (LBLOCK)
Lucky Block, described as one of the world's fastest-rising cryptocurrencies, tops our list of the next crypto to explode. At press time, the price of Lucky Block is $0.002032. In the last 24 hours, LBLOCK has slumped by 4.97%, a reflection of the broader crypto market decline.
Lucky Block is a cutting-edge crypto-lottery platform that runs on the Binance Smart Chain (BSC) network. According to Lucky Block, the online gambling ecosystem should be fair and transparent.
The Lucky Block Android app was recently released on the Google Play Store. This has made the lottery-style game open to anybody worldwide, except the 11 countries that prohibit lottery games for monetary gains. As a result, millions of smartphone and tablet users can participate in the games.
2. SushiSwap (SUSHI)
The second on our list of the next crypto to explode is SushiSwap. At press time, SushiSwap's price is $3.122. In the last 24 hours, SushiSwap has dipped by 7.17%, dropping 2.67% in the last week.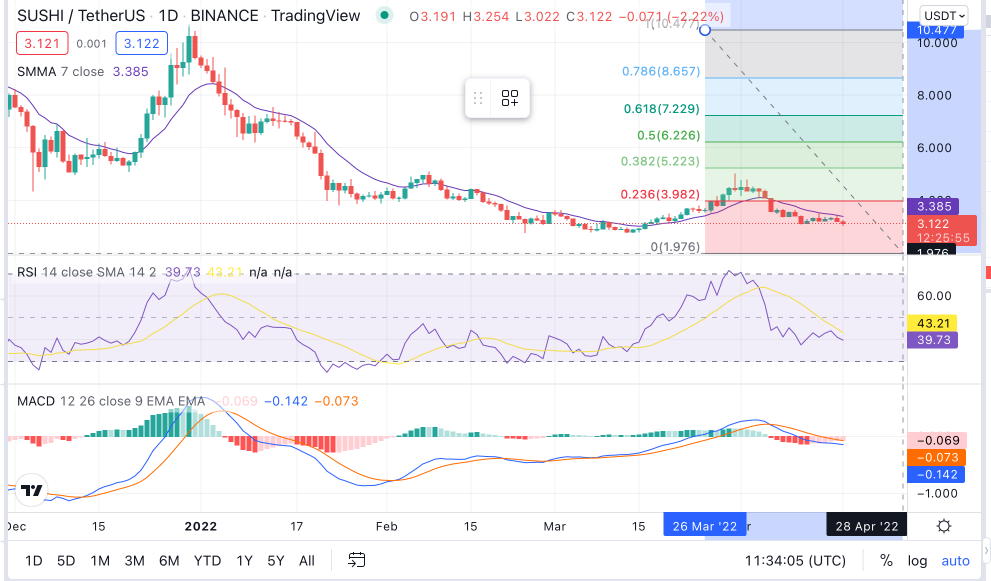 SushiSwap (SUSHI) is a decentralised cryptocurrency exchange based on the Ethereum blockchain. It creates liquidity pools using smart contracts, allowing users to exchange crypto assets without an intermediary. Users can also contribute to liquidity pools by donating an equivalent value pair of two cryptocurrencies in exchange for awards.
The crypto exchange has proposed the integration of Stargate to make native asset exchanges and network transfers easier. This new upgrade will let investors leverage the power of Sushi by allowing users to transfer between networks.
The AMM's adoption and on-chain activities may be boosted due to the Stargate integration. Investors will benefit from swift, guaranteed finality and unified liquidity due to the integration.
According to the announcement, combining diverse networks might boost the number of Sushi pools available. It will first accommodate seven networks, then expand until Sushi has an enormous total value locked in, allowing investors to get a better return on their money.
3. Polygon (MATIC)
The Layer-2 scaling solution platform, Polygon, is the third pick on our list of the next crypto to explode. At press time, Polygon's price is $1.317. In the last 24 hours, Polygon has dipped by 4.33%.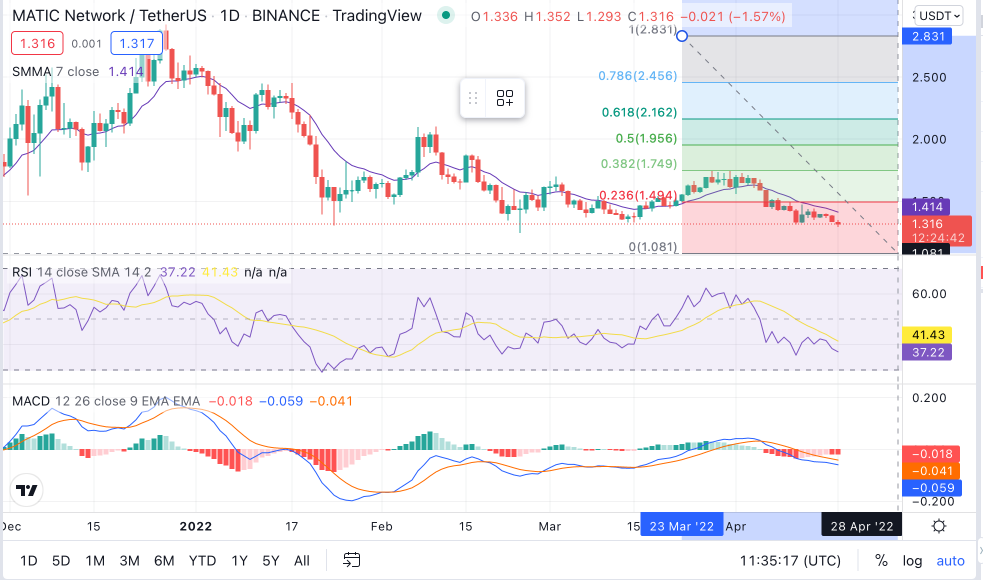 Polygon is a "layer two" or "sidechain" scaling solution for the Ethereum blockchain that allows for fast transactions with cheap fees. The framework's main component, Polygon SDK, is a modular, configurable framework that can be used to build a variety of applications.
The scaling solution uses a customised version of the Plasma framework, which is based on Ethereum's main-chain proof-of-stake checkpoints. Polygon claims that a single side chain can handle up to 65,000 transactions per second (TPS) with a block confirmation time of fewer than two seconds.
Opera, a major web browser, has announced that it will support up to eight different blockchain networks, making decentralised applications (dApps) and services more accessible. Polygon is one of the supported blockchains networks.
Earlier this year, Opera published a public beta version of their new Crypto Browser Project for mobile and desktop devices. As a result, polygon dApps are now available on desktop PCs and Android via the company's unique Web3-native browser, Crypto Browser Project.
4. PancakeSwap (CAKE)
Next on our list of the next crypto to explode is PancakeSwap, an Automated Market Maker (AMM). PancakeSwap's CAKE token is a BEP20 token that debuted on the Binance Smart Chain (BSC). The AMM allows users to trade tokens while also providing liquidity and generating fees.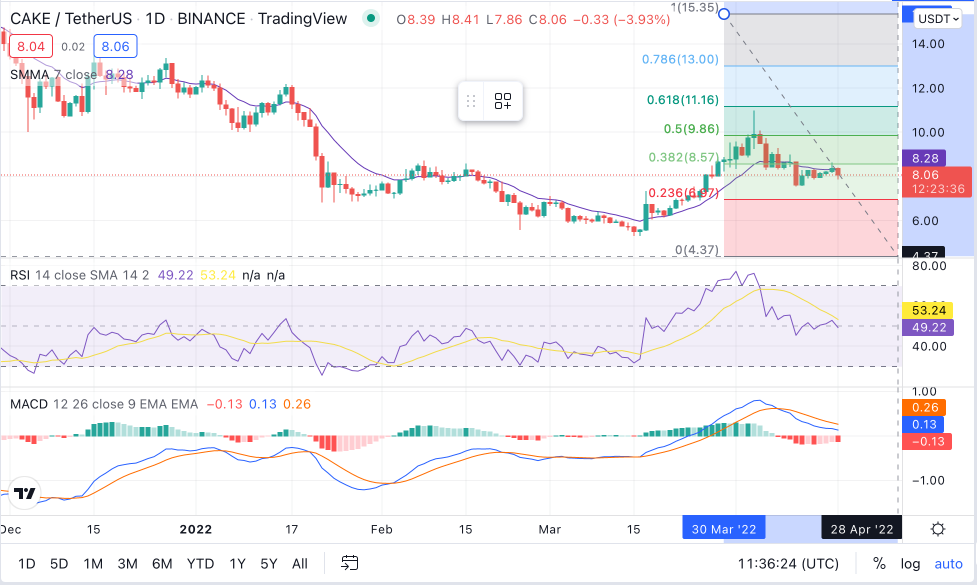 At press time, PancakeSwap's price is $8.06. In the last 24 hours, PancakeSwap has dipped by 1.96%.
PancakeSwap operates on an automated market maker approach, which means there are no order books. Instead, it relies on liquidity pools.
A user can earn money by being a liquidity provider; they can cultivate LP tokens and stake their CAKE to win rewards by putting their tokens into the liquidity pool. They can even try their luck with non-fungible tokens and lotteries.
Mars4, a blockchain-based Play-to-Earn game project, has been listed on PancakeSwap. NFTs for land plots, MARS4 currency, and the anticipated game are the three elements of the project. These features give clients a virtual Mars experience and opportunities to profit from it.
MARS4 is a survival game in which players must battle the harsh reality of Mars, explore the vast area, and construct their dream structures. The makers of the game aim to produce an entertaining and engaging game that allows users to earn money.
5. THORChain (RUNE)
THORChain is a decentralised liquidity protocol that allows users to swap digital currencies across many networks with complete control over their assets. It is our last pick on the next crypto to explode.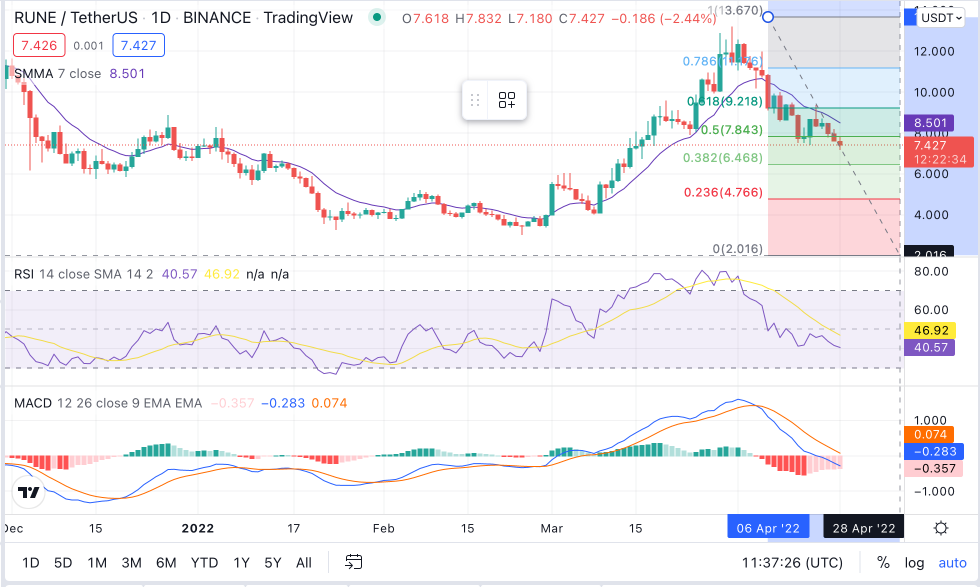 At press time, THORChain's price is $7.427. In the last 24 hours, THORChain is down 8.19%. Also, the price of the asset has dropped by 9.79% in the past 7 days.
With the decentralised liquidity network, users can swap one asset for another in a permissionless environment, removing the need for order books to get liquidity. In addition, the asset-to-asset ratio in a pool ensures that market values are maintained.
The network takes a novel way to reduce "impermanent losses". Impermanent losses are the often fleeting losses that liquidity providers face while contributing to liquidity pools. The network reduces this loss by collecting a slip-based fee that ensures liquidity is kept where it is needed.
THORChain's Dogecoin (DOGE) capacity has been completely integrated into its protocol. As a result, THORChain's native DOGE liquidity pool is currently operational.
Thanks to a successful listing by THORchain, Dogecoin may now be acquired on a decentralised exchange. This is coming after a long time of waiting.
Additionally, THORchain has offered the first DeFi protocol link to the solo DOGE blockchain network, which will delight Dogecoin holders.
Read more:
How to Buy Lucky Block Coin
Where to Buy SushiSwap (SUSHI)
Powered by WPeMatico