5 Top Cryptos to Buy This Week (LBLOCK, DOT, AAVE, LUNA, AVAX) April 2022 Week 4
With many cryptocurrencies on the market, it can be difficult to distinguish between cash grabs and promising businesses with long-term growth potential. We've compiled a list of the top 5 cryptos to buy this week for long-term investment.
1. Lucky Block (LBLOCK)
Our top recommendation for the 5 top cryptos to buy this week is Lucky Block, the self-proclaimed fastest-growing cryptocurrency.
At press time, LBLOCK trades at $0.002011, a drop of 4.97% in the last 24 hours and 25.49% in the past 7 days. The digital asset is 79.98% below the all-time high of $0.01.
Lucky Block aims to be a global cryptocurrency lottery platform that uses the Binance Smart Chain (BSC) and Blockchain Protocols. According to Lucky Block, Lottery games should not be limited by geography or tied to local banking systems. Instead, the online gaming ecosystem should be fair and transparent.
By locking in their tokens, token holders can determine their participation in the daily jackpot. When the lottery is held, one individual wins 70% of the jackpot, 10% is donated to charity, and 10% is spent on marketing. The remaining 10% is then distributed to all LBLOCK holders, based on the proportion of tokens they own.
The Lucky Block Android app was recently released on the Google Play Store. This means the lottery-style game is available everywhere playing games of chance for monetary gain is legal.
2. Polkadot (DOT)
Polkadot comes in second on our list of top cryptos to buy this week. Currently, DOT trades at $17.25. The asset has dipped by 6.91% in the past 24 hours and 8.65% in the last 7days. Polkadot is 68.62% below the all-time high of $55.00.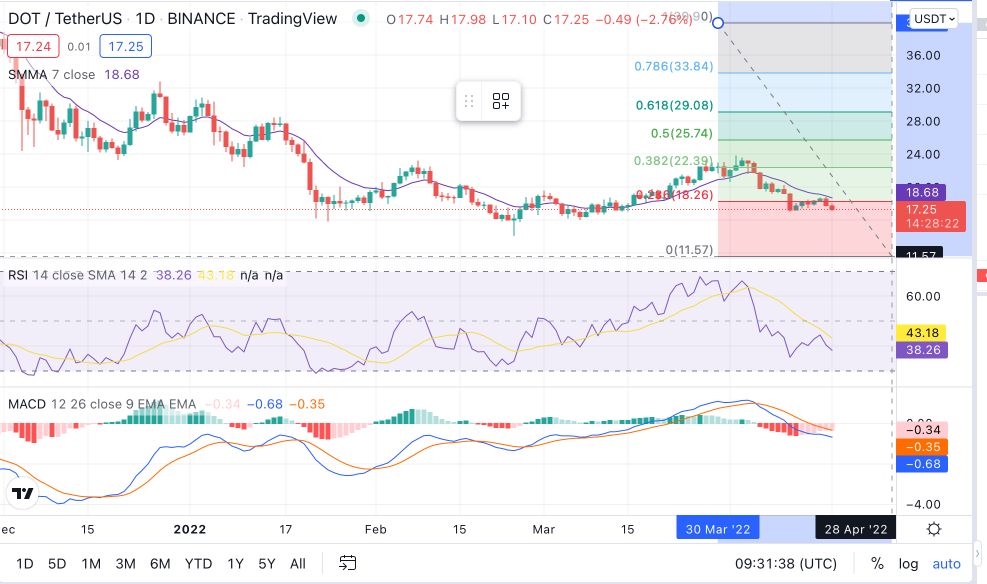 The crypto asset is a multichain sharding system that links and secures a network of specialised blockchains. It's a relay chain architecture, meaning it can interface with multiple blockchains simultaneously. As a result, Polkadot's security and the company's low fees and throughput will benefit investors.
The network has a user-driven governance structure, which means that all token holders have a vote in how the network is run. Polkadot enables teams to customise their blockchain governance to meet their demands and changing circumstances. Nominators, validators, and collators all play various roles in protecting and maintaining the network while deterring terrible conduct.
Efinity, Enjin's premier parachain, has been launched on Polkadot. Efinity will support CryptoBlades and its 1.1 million users as the first NFT parachain to debut on the Polkadot network, with support from over 100 games and apps.
Enjin is the most comprehensive ecosystem for non-fungible tokens (NFTs), with products for creating, trading, distributing, and integrating NFTs into virtual worlds. On Polkadot, the Efinity parachain intends to connect all blockchains and become the go-to site for holding NFTs with instantaneous and incredibly low transactions.
As the first gaming platform to drive NFT adoption on Ethereum and the creators of ERC-1155, Enjin is now heralding Polkadot and Efinity as the next generation of blockchain gaming.
Polkadot parachains enable individual projects to create bespoke blockchains at scale, giving them a viable alternative to NFT-based platforms that can become overburdened by large transactions.
3. Aave (AAVE)
Decentralised Finance (DeFi) lending platform, Aave, is our next pick on the list of top cryptos to buy this week. At press time, Aave's price is $160.2. Aave has seen a downtrend of 7.18% in the last 24 hours and a 6.29% drop over the past week. The asset is 75.92% below the all-time high of $666.86.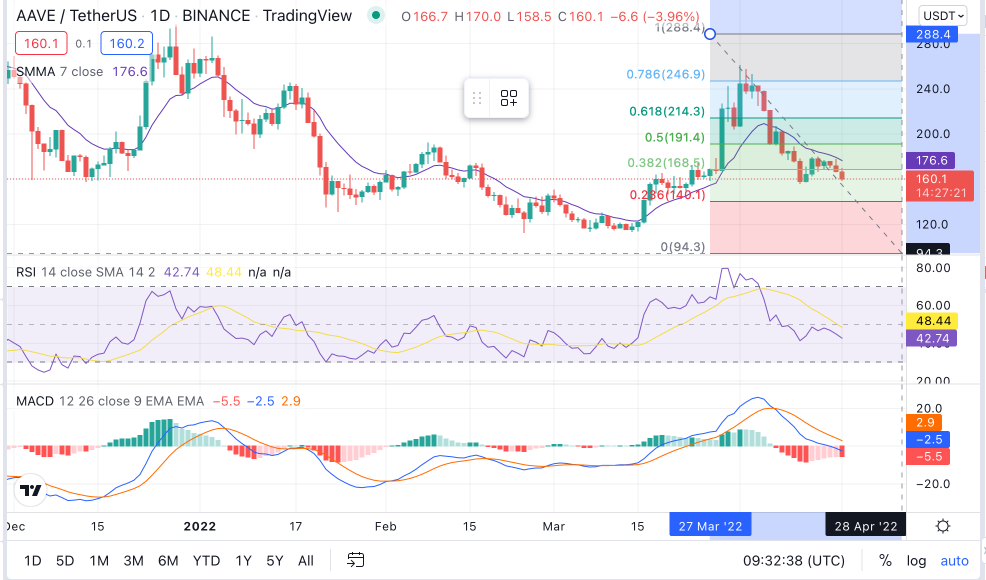 Aave (AAVE) is a decentralised money market protocol that allows users to borrow, lend, and earn interest on digital assets. For instance, it gives borrowers consistent interest rates, making it easier to budget.
The provision of "flash loans" is a unique characteristic of Aave. Users of flash loans do not need any collateral; therefore, they can receive approvals quickly. Furthermore, these flash loans are rapidly resolved, allowing borrowers to take advantage of trading opportunities.
According to the whitepaper, the protocol decides the interest rates for borrowers and lenders. The protocol calculates the interest rate for borrowers depending on the funds available in the pool and the quantity of cash required by the borrower. The interest rate is determined for lenders depending on the earn rate and any withdrawals made.
Furthermore, Aave recently announced Aave Arc, a permissioned variant of the popular DeFi loan platform. The variant is designed for companies who want to enter the DeFi market lawfully.
Aave Arc is a Decentralised Finance (DeFi) liquidity market that adheres to anti-money laundering regulations, requiring all players to pass a KYC check.
After passing financial scrutiny, the liquidity market allows eligible parties to borrow and lend cryptos to other users. It works like Aave's core protocol, but only authorised parties can use it.
4. Terra (LUNA)
Terra is next on our list of the top cryptos to buy this week. At press time, LUNA's price is $77.08, a drop of 5.67% in the last 24 hours. In the past 7 days, the digital asset's price has fallen by 12.80%.and is currently 35.44% below the all-time high of $119.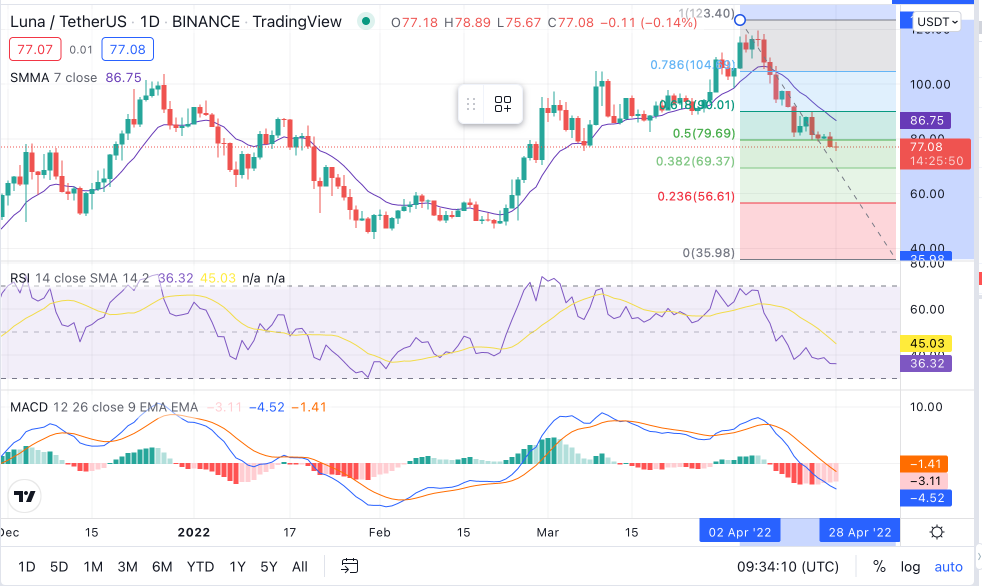 The crypto asset is attempting to set itself apart in the cryptocurrency world. This is due to Terra's ability to function as a blockchain, allowing users to generate stablecoins and other assets on its network.
Using the Cosmos software development kit, Terra Luna's blockchain lets users create fiat-pegged stablecoins. Smart contract capabilities for asset creation are also available on the platform, and these coins make use of the network's architecture.
Terra argues that its use of fiat-pegged stablecoins sets it apart from competitors because it combines the borderless benefits of cryptocurrencies with fiat currency's daily price stability.
Due to an algorithm that adjusts stablecoin supply in reaction to demand, it also maintains its one-to-one peg.
Anchor, Terra's well-known decentralised finance (DeFi) protocol, is now available on Polkadot's Acala network. Polkadot is looking to extend its DeFi usage, while Anchor wants to expand into new blockchains.
Acala will also work with Wormhole, a cross-chain bridge that will let users transfer assets across the Polkadot and Terra ecosystems. The teams will collude to set up deep liquidity pools for aUSD (a globally decentralised U.S. dollar-backed stablecoin) and UST on Acala, which will serve as an entrance for UST users into the Polkadot ecosystem.
5. Avalanche (AVAX)
Avalanche is last on our list of 5 top cryptos to buy this week.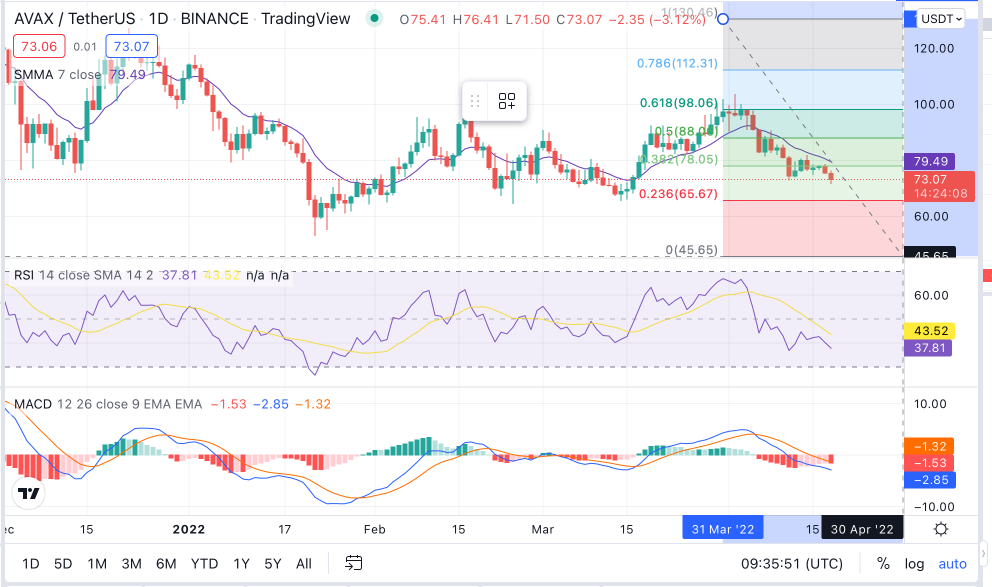 At press time, AVAX trades at $73.07, a dip of 6.01% in 24 hours and 8.62% in the past 7 days. It is currently below the all-time high of $146.22 at 50.31%.
Avalanche is a layer-1 blockchain platform that allows developers to build decentralised apps and unique blockchain networks. The platform competes with Ethereum. It can deliver up to 4,500 transactions per second (TPS) while being scalable.
Stablecoins, DeFi protocols (loan, savings, decentralised trading), and NFTs are just some of the applications that Avalanche can enable.
The Smart Contracts platform is compatible with Solidity, the programming language used by the Ethereum network. This implies that Avalanche may be used to install custom private or public blockchains as "subnets" by developers from Ethereum Network, one of the largest and most active communities in crypto.
The Avalanche Foundation recently launched a $290 million incentive campaign dubbed Multiverse to promote its new "Subnet" functionality. This Multiverse project intends to encourage network subnet extension and is supported by four million AVAX tokens.
Furthermore, the Avalanche Foundation focuses on blockchain-based games, non-fungible coins, and DeFi apps. Defi Kingdoms, a blockchain-based game with AVAX, will be the first to deploy this technology. This will move the game's operations and a new crystal coin to the appchain subnet. Moreover, AVAX will get up to $15 million in incentives as part of the project.
Read more:
How to Buy Lucky Block Coin
Where to Buy AAVE
Powered by WPeMatico