5 Reasons Bitcoin Price is Headed to $42k And Beyond – Buy BTC Now
Bitcoin is the official poster-boy for cryptocurrencies, and it has done a lot for the nascent sector. Being the first digital asset, it has singlehandedly lifted virtual currencies into global prominence by leading them to a trillion-dollar market in just twelve years. Little wonder the phrase buy BTC has become popular.
But the premier digital asset has been dogged by several issues lately due to its energy consumption and high volatility. Aiding and abetting crimes have also been stamped on it.
These challenges have seen it drop in value from its all-time high (ATH) of $65K to $30,000, with major resistance at $40K.
However, things are looking up for BTC again, and this may be the right moment for investors to buy BTC.
1. Tesla Still Interested In BTC Payments
Tesla boss Elon Musk announced that the EV firm is still open to accepting Bitcoin payments in a Sunday tweet. However, he places a condition for this reconsideration, and that is if facts are backing BTC mining is done with 50% of clean energy and with a positive future trend.
This is inaccurate. Tesla only sold ~10% of holdings to confirm BTC could be liquidated easily without moving market.

When there's confirmation of reasonable (~50%) clean energy usage by miners with positive future trend, Tesla will resume allowing Bitcoin transactions.

— Elon Musk (@elonmusk) June 13, 2021
This turn-around saw the price of Bitcoin rise 2% from the $35,000 resistance level to $37,960, bringing the embattled premier digital asset back into investors' focus.
Musk has played a pivotal role in the adoption of Bitcoin, with his EV firm staking about 8% ($1.5 billion) of its cash reserves in the digital asset in early Feb.
This was seen as a watershed moment for digital assets. But he decided to discontinue accepting BTC as payments for his company leading to a massive selloff in the broader crypto market. Tesla subsequently accepting Bitcoin in the coming weeks could see the crypto asset shoot beyond the $40k mark leading to a revamp of the crypto market. This may be one of the best moments to buy BTC.
2. El Salvador Adopts Bitcoin as Legal Tender. Time to buy BTC?
Many world governments may be against Bitcoin replacing their fiat currency but not Latin American nation El Salvador. According to a new law passed by the country's legislative arm, the American nation recognizes Bitcoin as a medium of exchange.
Sponsored by President Nayib Bukele, this milestone will enable Bitcoin to serve as a second legal tender besides the US dollars. Bukele bases his reasons on the digital asset's decentralized nature, noting that Bitcoin could facilitate more financial inclusion for the country's 70% unbanked adults. Added to this is the attraction of investments leading to a boom in tourism and economic empowerment.
Speaking on if Bitcoin mining would be carried out in the nation, Bukele said that crypto-mining could be done with 100% clean energy, thanks to its 20 active volcanoes spread across the country. This has seen him direct the country's geothermal electricity company to create a plan that could allow the proof-of-work (PoW) protocol to be mined 100% renewable energy, affordably, and with zero emissions from the volcanoes.
So far, there is a new Bitcoin mining hub powered solely by volcanoes in the country. El Salvador is also planning to build internet infrastructures to enable rural areas to participate in the revolutionary technology.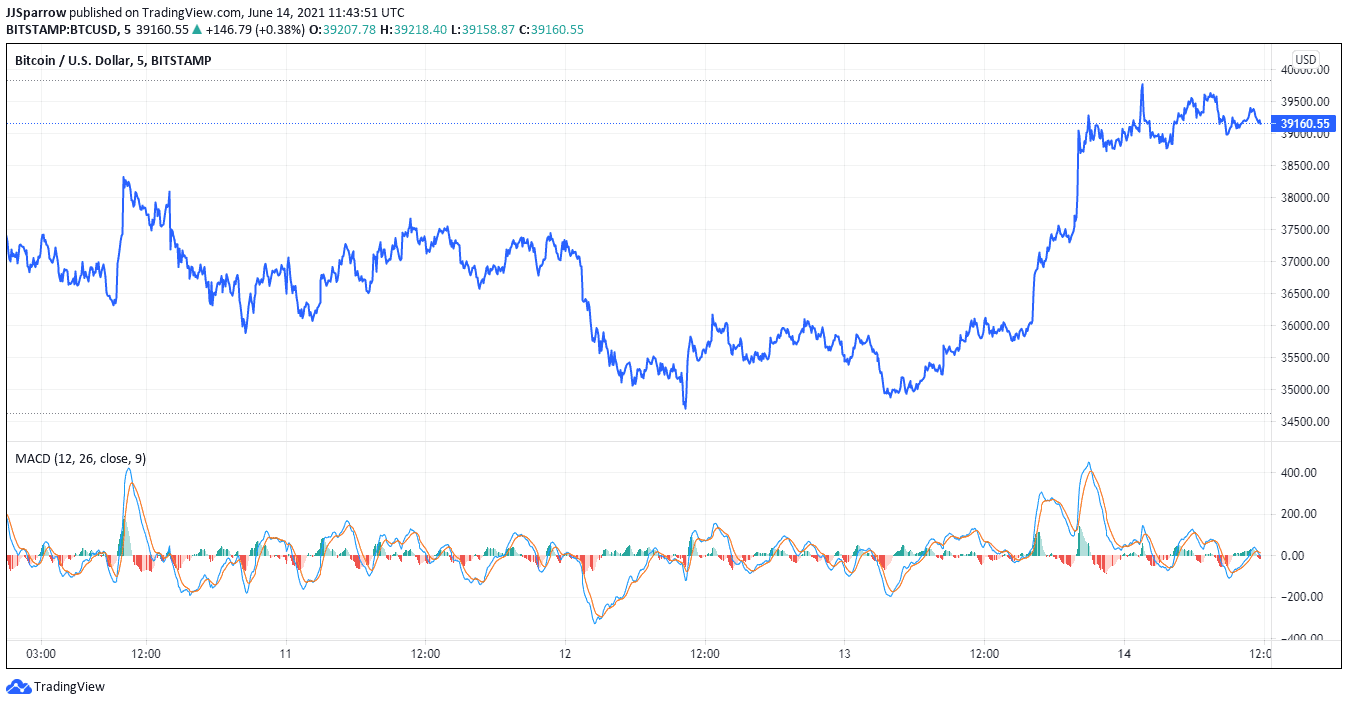 Bitcoin has broken through the $38k resistance zone, trading at $39,083.55 at press time, showing a potential rally on the 20-day moving average (MA) support. The 200-day MA also points to a bull run indicating this may be a great time to buy BTC.
3. Basel Committee Recognizes Crypto As Legal Asset Class
Banking supervisory authorities The Basel Committee has recently recognized Bitcoin and crypto as a legal asset class, according to a proposal. This has drawn crypto into the mainstream financial landscape, lending more credence to the nascent industry.
However, the Basel Committee of apex banks is imposing a hefty 1,250% risk weight on the new asset class, noting that volatility is a major deterrent in banks holding these virtual currencies. Meanwhile, the CEO of Ledgermatic, Luke Sully, said that the risk weight could hinder the wide adoption of cryptocurrencies for a long time. According to Sully, this is due to the large capital requirements it would demand banks to offer crypto services. He, however, said that this is a win for the decentralized digital currency.
4. Bitcoin Mining Shutdown Could Herald Renewables Growth
Bitcoin miners have streamed to less energy-demanding areas to open up Bitcoin farms. This has seen Asian giant China and Middle East nation Iran being major Bitcoin mining hubs. But miners in China have largely utilized power from coal-powered electricity grids, bringing into focus the environmental damage this could have on the atmosphere in the long term.
Persistent questions on Bitcoin's energy-guzzling PoW protocol have lent credence to these criticisms as data shows it uses more energy than small European nations.
China's recent sanction of crypto mining in its Inner Mongolia region could play out in favor of Bitcoin being mined with renewables.
Crypto mining with clean energy has already been in place before the ban by China. However, the exact share of BTC mining done through this process is disjointed. According to a
Cambridge University report, about 39% of crypto mining is done with clean energy. A separate report from the Bitcoin Mining Network puts the figure higher at 74.1%.
Even though this has not been determined, it proves without any reasonable doubt that miners are rapidly transitioning to renewables which could see Bitcoin begin to reclaim all its market cap in the coming days. A large portion of BTC mining done with renewables could help Bitcoin see positive price action making now the best time to buy BTC.
5. BTC breaks critical overhead resistance – back near highs soon?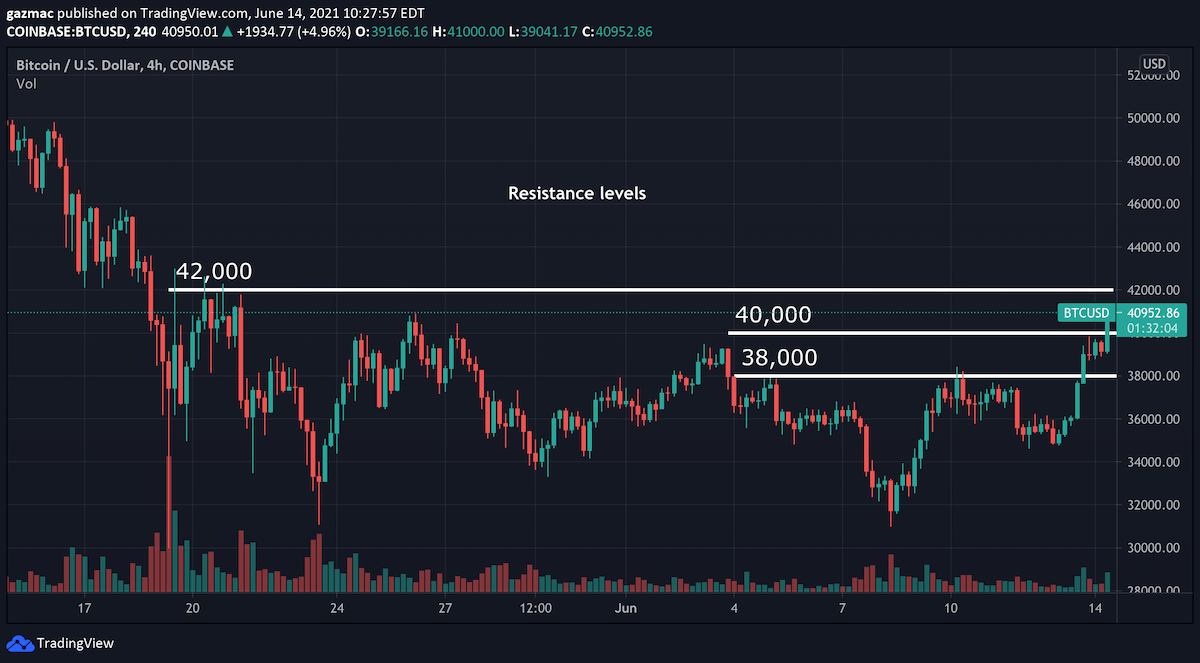 Bitcoin has been struggling to breakthrough resistance at $38,000 and $40,000 but has scaled both of those heights over the past two days of trading.
The $38k resistance level was established in mid May and the two lower resistance levels in the near term. With both of those taken out, there is a strong possibility that momentum will take the price through $42,000. In the time it has taken to write this article the price has appreciated by nearly $1,000, with BTC currently trading at $40,900.
Reclaiming $42,000 is big news for bitcoin as the way ahead from there is pretty much resistance free until the price returns to the $50ks.
Looking to buy or trade Bitcoin (BTC) now? Invest at eToro!
75% of retail investor accounts lose money when trading CFDs with this provider