5 Best New Cryptocurrency to Buy June 2021 Week 3
Finding the best new cryptocurrency to buy in June is never an easy task. The market was bloody in May, but things are gradually normalizing. Our list is a roundup of the best cryptocurrencies you should buy in June.
We start with an exciting new project called DeFi Coin. We follow this up with other names Kusama and Polkadot which are relatively new coins.
However, we also include Bitcoin (BTC), for obvious reasons. Sure, it's not strictly new, but it provides a new buying opportunity at current prices for those who hold no position in the coin. Bitcoin accounts for over 40% of the entire crypto market. When it rises, the market often follows suit and vice versa. Despite its downturn, BTC still remains an investor's delight. Let's dig right into it.
1. Buy DeFi Coin – check out the over-the-counter pre-sale
At the top of our best new cryptocurrency to buy list is DeFi Coin (DEFC). DEFC is the native coin of DeFi protocol DeFi Coins—whose single-minded purpose is to increase the adoption of DeFi projects.
The platform allows users to trade digital currencies in a decentralized manner, thereby eliminating intermediaries.
Like most DeFi protocols, DeFi Coins has a set of three core functions; one is the use of static rewards, automatic liquidity pools, and manual burn strategy.
It also has a proprietary native digital token, DEFC, which aims to incentivize user engagement with the platform.
Its static rewards aim to encourage holding DEFC for the long-term, as sellers of the token are taxed 10%. 5% of the fees are shared amongst DEFC token holders, while the other 5% is used for exchange liquidity.
Automatic liquidity pools enable users to earn interest when they provide liquidity from their crypto holdings with smart contracts.
To reduce the number of DEFC tokens on the open market and increase its value, DeFi Coins opts for a manual burn strategy. This means it would remove a portion of its circulating supply, much like a share buyback program. This would be done with the consent of the DeFi Coin community.
DeFi Coin is launching its platform through an Initial Exchange Offering (IEO) in Q3 2021, but you can get its DEFC token at a pre-sale price of $0.10 over the counter (OTC).  The coins are available for sale here. More details are available via email here.
You can see the contract address for the pre-sale on bscscan.com, enabling anyone to monitor the incoming and outgoing purchases and sales.
This is the contract address: 0x9d36c80944ab74930fb216daf0c043d4dccdaeb7
For a deep dive on DeFi Coin, download the whitepaper.
All cryptocurrency investment put your capital at risk. You may lose all of your initial investment
2. Buy Bitcoin at a great new entry point
Although Bitcoin is not a new crypto asset, it features in our best new cryptocurrency to buy list.
Bitcoin is the top dog of the crypto world and commands more than 43% of the industry's $1.73 trillion valuations.
Being the premier digital asset, Bitcoin has been the focal point of the crypto sector.
Bitcoin has played a pivotal role in attracting institutional investment into the nascent industry. Given its deflationary tendency and hard-cap limit of 21 million coins that will ever be produced, many crypto enthusiasts have dubbed it digital gold.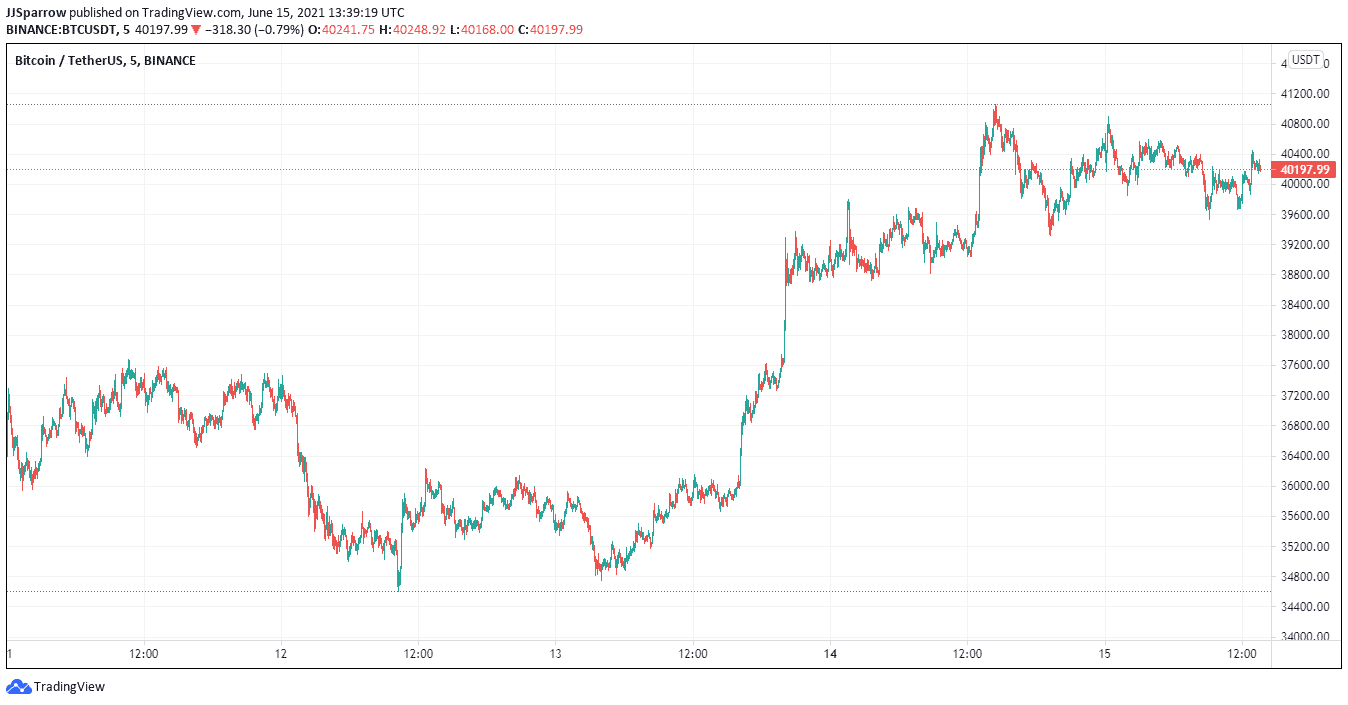 Bitcoin has enjoyed phenomenal success in the years since its launch in 2009.
Showing promise in 2017, the digital asset surged close to the $20K mark – drawing attention to the crypto space. But in 2020, the world's oldest asset came into its full form as the world transitioned to a more digital way of doing things.
Bitcoin has grown over 100% year-to-date, breaking its previous record and reaching an ATH of $65,000 in mid-April 2021.
However, it has lost more than 35% of its value following growing concerns surrounding its energy demands and use by criminals.
Bitcoin has continued to rally thanks to positive news from Elon Musk and regulators. BTC climbed 1.67% on the 24hr trading chart to $40,062, making it one of the best new cryptocurrency to buy in June.
3. Buy Polygon – one of the fastest growing dApp platforms
Polygon may just be a complementary crypto protocol, but its growing adoption has drawn investors' interest. Operating on the Ethereum network, Polygon enables faster and more cost-efficient DeFi transactions on the Ethereum blockchain.
The layer-two scaling solution has grown exponentially in the last three months as more DeFi applications have launched on its platform. It has also processed as many transactions as its parent protocol, and the recent launch of its software development kit (SDK) to enable easy integration with the DeFi space has received wild acclaim.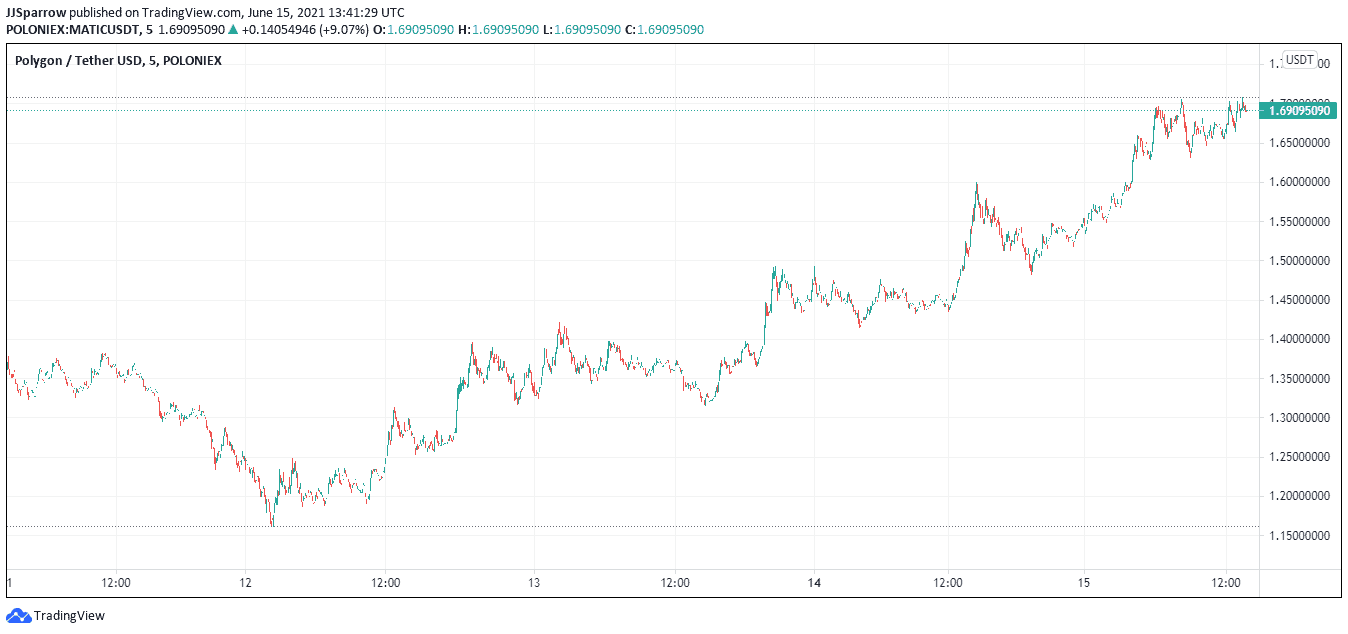 Polygon, formerly Matic Network, has seen its digital token rise to a whopping $2.29 on the daily average. However, it has lost some of its steam due to the broader crypto market crash of May 2021. Meanwhile, more crypto protocols are looking to launch on the Polygon Network, given its affinity with Ethereum. This could see its digital token surge as the crypto market recovers. On the 24hr trading chart, one Polygon token goes for $1.67, showing a 15% increase making it one of the best new cryptocurrency to buy this month.
4. Polkadot –parachain auctions get buyer juices flowing
Polkadot is another best new cryptocurrency to buy this month. Polkadot is a blockchain platform that allows multiple blockchains to communicate and connect trustlessly through its parachains. This way, Polkadot enables the cross-chain transfer of any data or asset types, thereby enabling interoperability between both permissioned and open-source crypto protocols.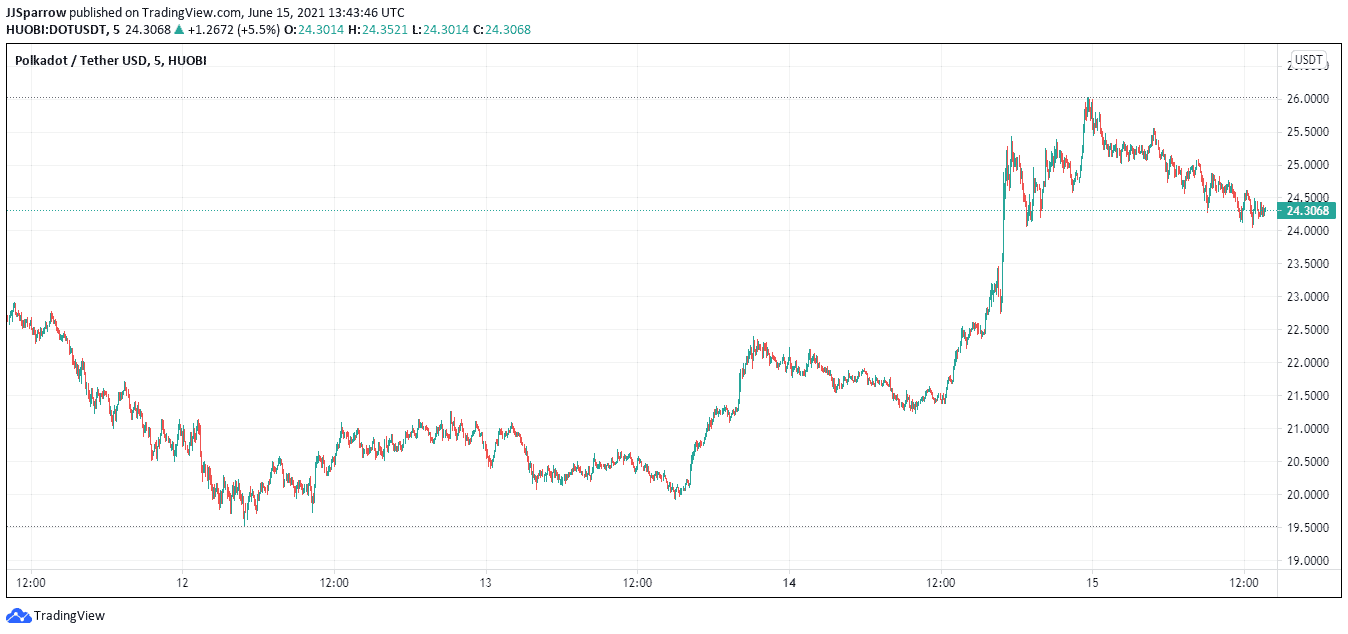 Like most crypto protocols, Polkadot has a native utility token called DOT, which provides network governance and operations and creates parachains by bonding.
Founded by former CTO of the Ethereum network Dr. Gavin Wood, Polkadot has grown in the last year, boasting over $24 billion in market cap.
Its DOT token currently trades $24.52, showing an increase of 14.19% on the daily chart. Polkadot is also launching its parachains soon, making it one of the best new cryptocurrencies to buy for the long term.
5. Kusama (KSM) – parachain auction starting soon
Last but not least of our best new cryptocurrency to buy is the sister-chain network of Polkadot Kusama. Serving as a testnet and reconnaissance of Polkadot, Kusama is created to provide a scalable and interoperable network for developers.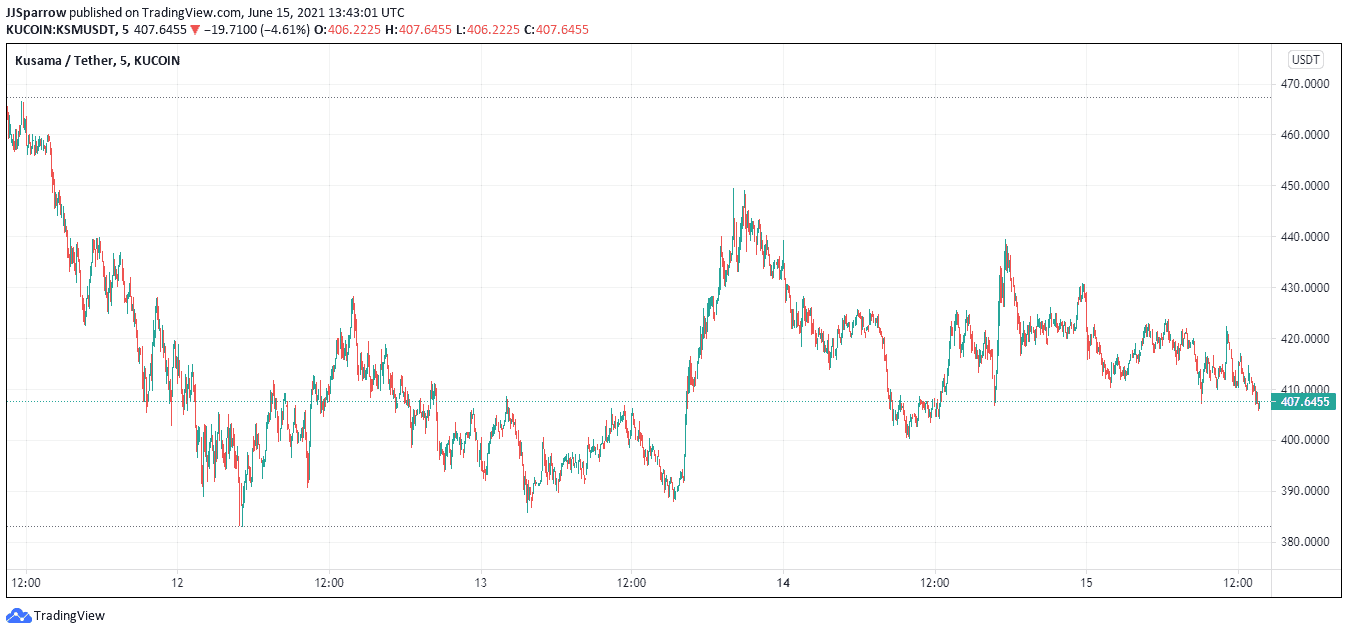 Built on the Substrate framework, Kusama deployed fast-paced projects through its sharded network with features that are not available on the Polkadot network.
And just like its conservative cousin, Kusama also runs on parachains. Parachains allow development teams to launch their project on Kusama's Relay Chain infrastructure relying on its robust security system.
Kusama, also controlled by Wood, recently announced the start of its parachain auctions, where crypto protocols can vie for a space on the network. This has seen the KSM token surge and trade in the $415.97 bracket. Kusama is up by a 2% increase in the last 24-hr making it one of the best new cryptocurrency to buy in June.