5 Best Cryptocurrency to Buy as Prices Dip – June 2021 Week 3
What are the 5 best cryptocurrency to buy right now when the market is swooning? We've all been looking at
Its always good to stock up on Bitcoin at any price. Latest prices have seen the currency hovering around the $32,000-33,000 mark. There also seems to be strong support at the $30,000 level which seems very unlikely to be breached. Bitcoin dominance continues to remain at a high level so there should not be any more downward moves anytime soon.
Although now well below its high of $65,000 this year, there seems to be an understanding that with the fabled 'death cross' being formed in the past few hours could lead to a bull run in the very short term. One must be prepared to take some small losses if going in now, but the medium-term looks good for BTC.
2. Ethereum (ETH) – largest smart contract platform by far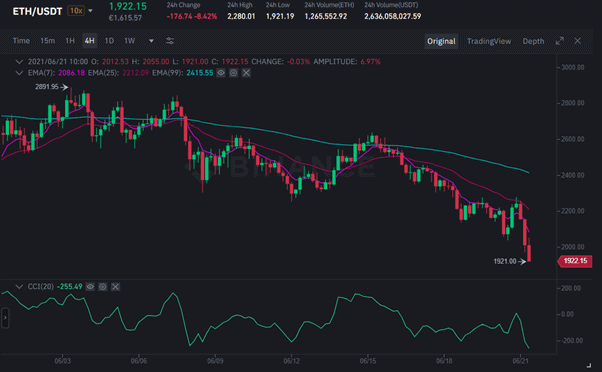 Bitcoin's smaller and younger brother, Vitalik Buterin's brainchild, ETH has also taken a huge battering of late. After reaching a stratospheric high of $4400 in early May, it has now continued careening downwards to the psychologically significant $2000 level and has even broken that support in the past few hours. In fact, ETH is currently trading below the $1950 level and appears to be poised for a further decline in price levels in the short term.
However, with strong fundamentals, Ethereum is expecting to slowly start bouncing back over the next few weeks as more institutional investors stock up on the currency. The vast number of decentralized exchanges based on the ERC-20 protocol are also undoubtedly expected to continue shoring up ETH's value accordingly.
3. Binance Coin (BNB) – a leader among exchange coins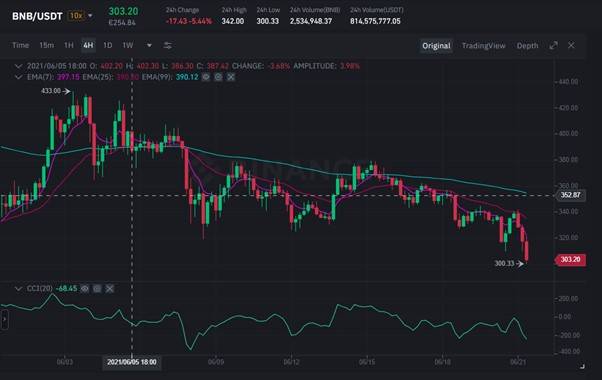 When BNB began its meteoric rise at the beginning of the year with a rise of 200% from $50 to $150, there were many who believed that it would crash down to its pre-December levels. But Binance went from strength to strength and continued rising to unprecedented heights where it reached a high of around $650 in early May.
It has taken a huge hit of late and even descended to below the $300 mark in the past weeks but made a recovery which has once again see it drop considerably to just over the $300 mark. We believe that BNB remains a bargain at this price as it will undoubtedly rise especially when more decentralized exchanges and other DEFI projects continue to mushroom.
In fact the top prediction for BNB by end of year is the $900-1000 mark whilst the lowest is at around $500 – still a 75% rise over its current price. With the current bear market prevailing, a further decline could be seen but long term, BNB is always a good buy to shore up your crypto portfolio.
4. IOTA (MIOTA) – becoming more decentralized for IoT age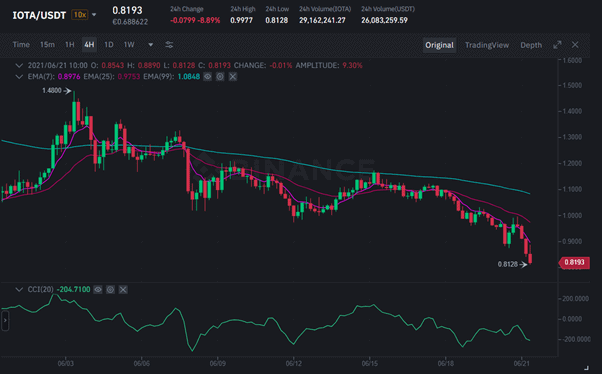 MIOTA is another coin which has taken a considerable battering of late but which also promises huge potential in everyday life. With its proposal for simplification of the Internet of Things, investment in this coin has paid off handsomely for those who entered when it was a fraction of a cent around 4 years ago.
MIOTA recently peaked at around $2.50 in late April but has since seen an inexorable decline to well below the $1.00 mark and is currently trading at the $0.79 level.
Again, fundamentals are sound and there is reason to believe that this coin will make a substantial recovery in the medium term where it is expected to regain the $2.50 level by the end of the year.
5. TEZOS (XTZ) – a pioneer in proof of stake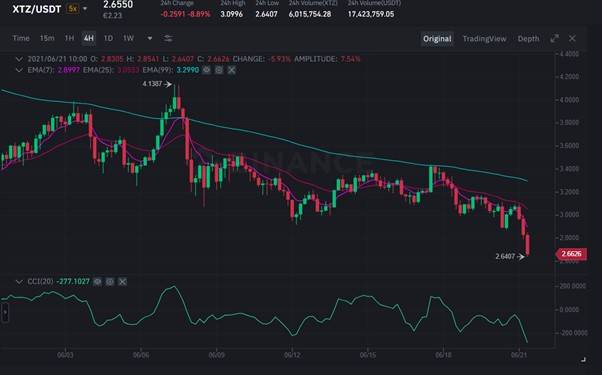 Another interesting project, XTZ has been battered of late with a slow inexorable decline that has seen it touch low levels of below $3.00 of late. Tezos is currently trading at the $2.60-2.70 level and looks poised for a further short decline before raising a leg upwards.
Out of the coins selected here this has perhaps the most potential to recover by the end of the year since it has lost almost 70% of its value from its all time high of $7.15-7.20 at the end of April. XTZ is basically back at the levels that it was in late February so its decline has been short and extremely sharp.
Other candidates for the crypto upswing
While bears are firmly in the market now, there do appear to be other currencies that could see an upswing in the short to medium term. Perhaps LINK (Chainlink) and BCH are those coins that could be poised for a substantial upswing in the short to medium term since the fall has been substantial and brutal.
TRX is also a good bet as well as the BTT token whilst DOGE remains unpredictable although its fall to just above the $0.20 mark has been substantial too. One has to wait and see but panic selling is not an option.
Looking to buy or trade crypto now? Invest at eToro!
Capital at risk
Powered by WPeMatico