5 Best Cryptocurrencies To Buy Now – June 2021 Week 4
Here are the 5 best crypotcurrencies to buy now. The cryptocurrency market has stabilised after its mid-week plunge. Having
BTC has had a difficult month or so. On May 12, Tesla announced it would no longer be accepting the cryptocurrency as payment for its cars. This sent bitcoin (then priced at around $58,000) on a downward spiral. It has since lost 41%, while it's down by 47% relative to its all-time high of $64,804.
However, these declines put bitcoin in a strong position for future gains. Pantera Capital published a report on June 14 which found that bitcoin is priced at 36% below its 11-year trendline. What this means is that it's price activity over the past 11 years suggests it should be priced higher. And in fact, given that bitcoin has declined in price since June 14, it's now 45% below its 11-year trend.
This gives it plenty of room to rise higher. It is one of the best-placed cryptocurrencies to rise strongly as the market recovers. Not only is it enjoying more adoption and interest than other coins, but its market dominance is growing. Having stood at 39% on May 19, it's now up to 45%. This indicates that traders are rallying around bitcoin during a period of market uncertainty.
2. Ethereum (ETH)
Ethereum (ETH) has fallen steeply since its ATH of $4,356, set on May 12. However, at $1,942, it's still up by more than 700% over the past year.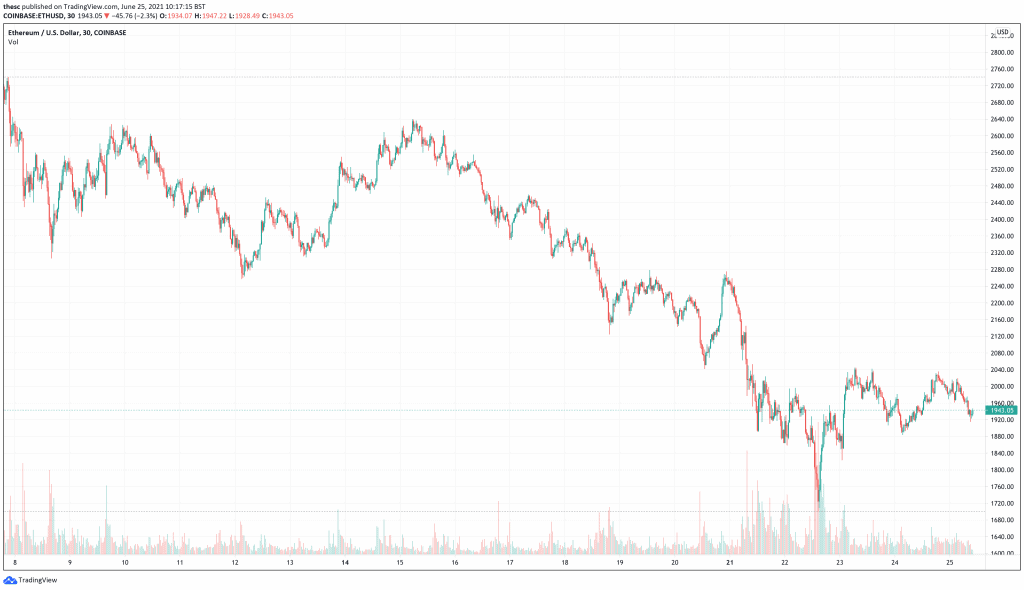 Despite falling by 55% from its ATH, the fact that it rose so strongly during the bull market indicates just how strongly it could rise again. Its climb to $4,356 represented a 488% rise since the start of 2021. It also represented a more-than 2,000% rise compared to the same point a year previously.
Ethereum's impressive rise in the weeks preceding May 12 indicates just how important it is to the crypto ecosystem. The Ethereum blockchain supports most of the DeFi apps and platforms that boom during periods of expansion. There's no reason to think a future period of expansion won't have a similar effect.
In fact, with Ethereum 2.0 on the horizon, ETH could rise even more strongly in the future. Ethereum 2.0 will be a proof-of-stake blockchain. Validators will lock up ETH in order to verify transactions. This means they'll take a significant portion of ETH out of the market. In turn, the cryptocurrency will experience substantial upwards price pressure.
Ethereum 2.0 is likely to launch towards the end of 2021. Expect the price of ETH to jump around this time.
3. Dogecoin (DOGE)
Dogecoin (DOGE) may be a fairly controversial inclusion in a '5 best cryptocurrencies to buy now' list. However, while it arguably lacks fundamentals and wider adoption, it has one thing going for it: a strong community.
DOGE is up by 12.8% over the past 24 hours. Admittedly, it has fallen by 12% over the past week and 22% over the past 30%. But while this is a little steeper than the falls suffered by other coins, it potentially leaves the cryptocurrency open for bigger rebounds.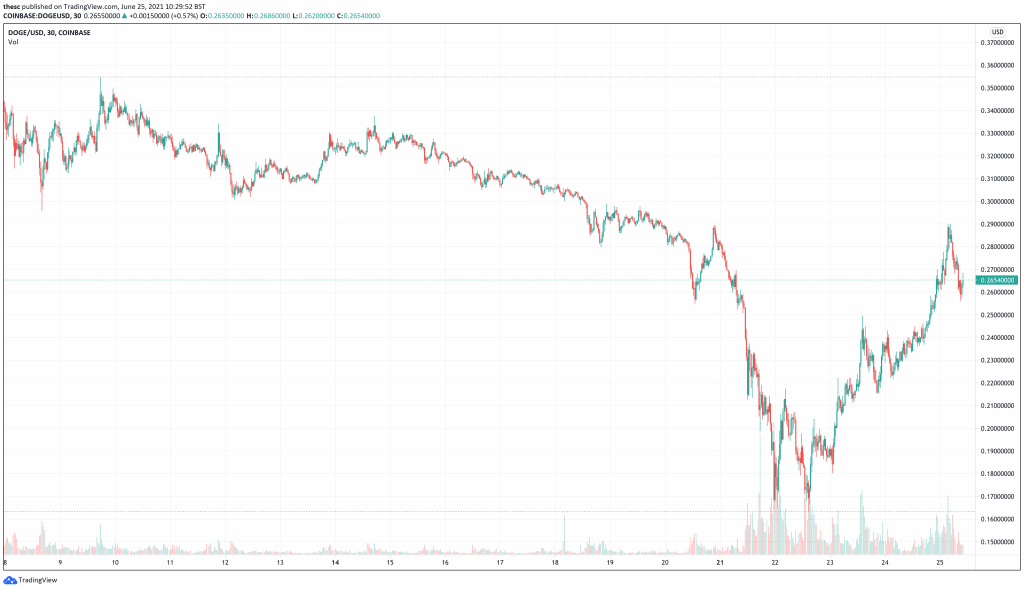 As the chart above shows, DOGE recovered strongly following its big fall on June 22. This is partly because it dived harder than other coins, but also because of its strong community. As London-based analytics firm skew tweeted recently, the Dogecoin subReddit now has over two million subscribers.
2.1 mln subscribers in total pic.twitter.com/nDFU5XRW29

— skew (@skewdotcom) June 23, 2021
This is two million-plus subscribers all collaborating on keeping the DOGE price afloat. Not only that, but they will push DOGE up higher than many other coins during bullish markets.
4. Cardano (ADA)
Cardano (ADA) has coped with the recent market downturn better than most coins. At $1.34, it's flat over the past 24 hours and rising by about 1% in the past hour. It has also fallen by 'only' 9% in the past seven days, with the likes of ETH, BNB and DOGE falling by more than 15%. It has also risen by just over 30% since the June 22 market crash.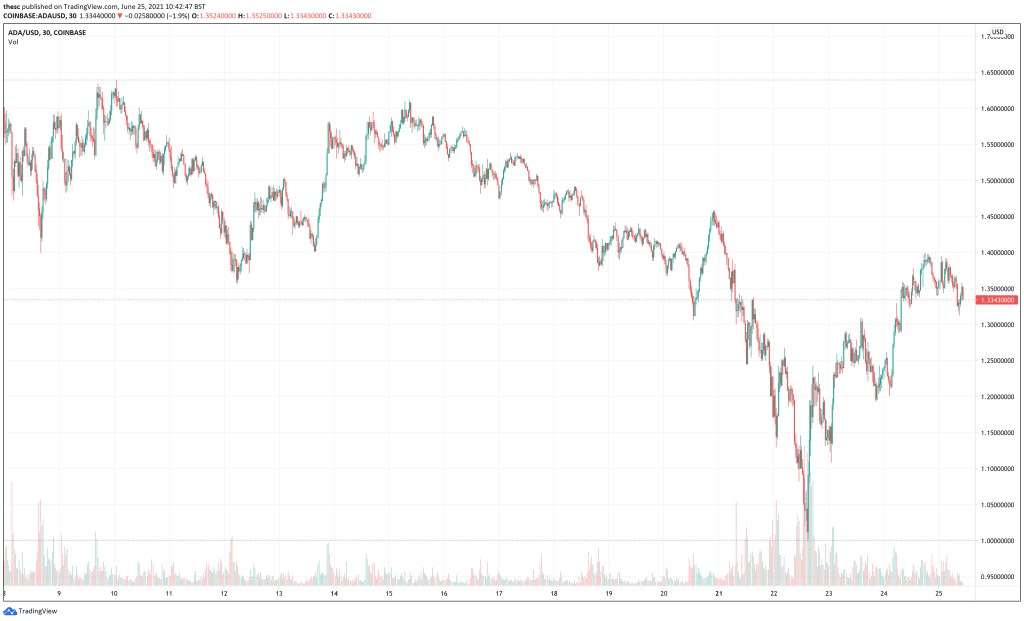 ADA is up by an impressive 1,500% over the past 12 months. Hype surrounding Cardano as a platform is largely responsible for this rise. It's in the process of rolling smart contracts as part of its Alonzo upgrade, due later in the summer. This will give it the ability to run dApps and DeFi applications.
Founder Charles Hoskinson has claimed that over 100 companies are ready to launch on Cardano. This could be bluster, but it's likely we'll see numerous Cardano versions of popular platforms in the coming months. This is why it's one of the 5 best cryptocurrencies to buy right now.
5. Ripple (XRP)
At only $0.639, XRP is a steal right now. It has fallen by 24% in the past seven days, and 34% in the past month. Such above-average drops might seem discouraging to traders, but it sets up XRP nicely for big recoveries.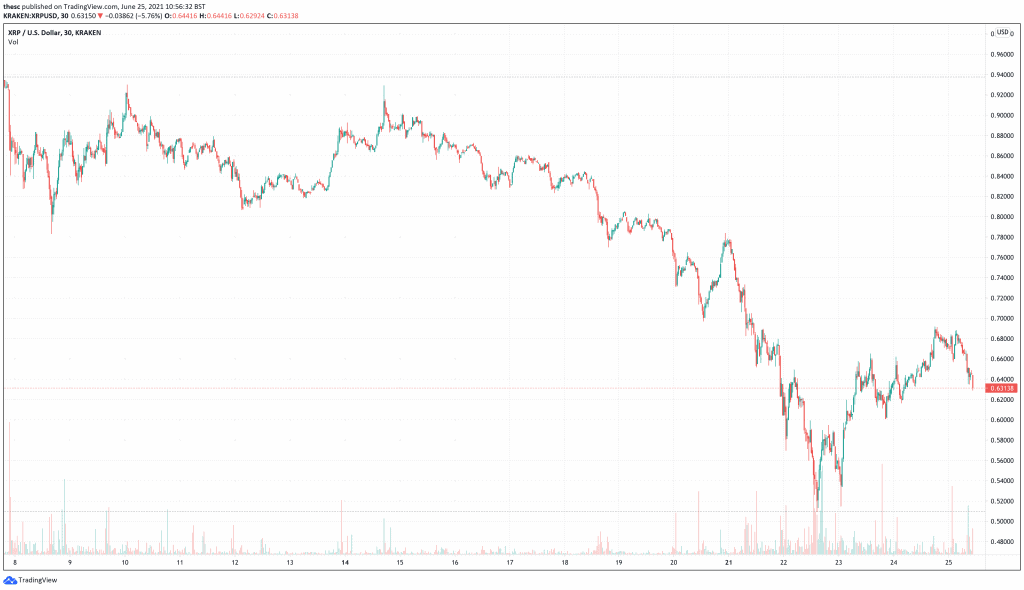 Despite recent falls, XRP holders have plenty of reason to be confident. On the one hand, Ripple and XRP continue to be used by various institutions around the world. Ripple has signed new partnerships recently with the National Bank of Egypt, as well as with the University of Capetown, Reykjavik University, and New York University Abu Dhabi. It also lists such partners as AirWallex, Bexs Banco, Credit Agricole, Cuallix, Currencies Direct, dLocal, IFX, Krungsri, RAKBANK and TransferGo.
In other words, it remains in a strong position to enjoy increasing use. And with its ongoing case with the SEC moving in a more favourable direction recently, ADA could rise strongly as the market recovers.
Looking to buy or trade Ripple (XRP) now? Invest at eToro!
Capital at risk
Powered by WPeMatico