5 Best Cryptocurrencies to Buy June 2021 Week 3
The cryptocurrency market has rebounded. After struggling ever since Tesla stopped accepting bitcoin as payment, it's now on the up again. The reason? Well, Elon Musk revealed Tesla will in fact resume accepting bitcoin as soon as miners renewably source 50% of their energy. This statement has sent much of the market higher, with bitcoin itself rising by 14% since Musk's tweet. So in the spirit of renewed bullishness, we've picked the 5 best cryptocurrencies to buy right now.
5 Best Cryptocurrencies to Buy June 2021 Week 3
1. Buy Bitcoin (BTC)
We stuck with bitcoin (BTC) through the recent downturn, and the cryptocurrency has repaid our faith. Not only has it jumped bu 14% since Musk's tweet on June 13, but it has now risen by 20% in the past week. El Salvador — which voted to make BTC legal tender — is also largely to thank for this resurgence.
These two developments — Tesla's U-turn and El Salvador — have been enough to restore investor confidence in bitcoin. Its one-year gain has now jumped back over 300%, to 329%. Tweets per day about bitcoin have surged to some of their highest levels of all-time. Likewise, Google searches worldwide for "bitcoin" are increasing again, having plummeted since they hit a 12-month high in late may. Basically, if any crypto is going to enjoy strong gains as the market recovers, it's probably going to be bitcoin.
It's not only bitcoin's potential for upside which makes it one of the best cryptocurrencies to buy at the moment. It's also the fact that it had been fairly resilient during the recent slump. Compared to some of the more hyped altcoins, it did a better job of holding its price. It's now 37.8% down from its all-time high of $64,804. By contrast, dogecoin (DOGE) is 55% down from its ATH. Meanwhile, binance coin (BNB) and chainlink (LINK) are 45.6% and 51.3% down, respectively.
2. Buy Binance Coin (BNB)
Binance coin (BNB) hasn't recovered as strongly as bitcoin from the recent slump, but there are several reasons to expect it to outperform much of the market. It's up by 3.6% in the past 24 hours, and by just over 5% in the past fortnight. At the same time, it boasts a return of more than 2,000% across the past 12 months.
Firstly, BNB is a cryptocurrency that will rise strongly with the overall market. Given that it's the native token of the Binance exchange, its use will rise with increasing usage of the exchange itself. In turn, its price will rise, if only because holding it grants Binance users discounts on trades.
Secondly, BNB is set to continue benefitting from the growth of Binance Smart Chain. The total value locked into BSC has grown to an impressive $27 billion. It has also enjoyed rising adoption in recent months, with many platforms switching to it.
Because BNB powers transactions on Binance Smart Chain, we can expect its price to rise along with usage of the platform. Together with renewed market exuberance (which results in more Binance traffic), this makes BNB one of the best cryptocurrencies to buy right now.
3. Buy Cardano (ADA)
Cardano (ADA) is another cryptocurrency which has done better than others in retaining its value. At $1.59, it's 35.6% down from its May 16 ATH of $2.45. This is better than bitcoin, and it's better than pretty much every other altcoin out there.
ADA has also had a mini-surge along with the rest of the market. Since the Tesla news of June 13, it has increased by 12.8%, from $1.41 to $1.59. It's also nearly 2,000% up compared to where it was one year ago.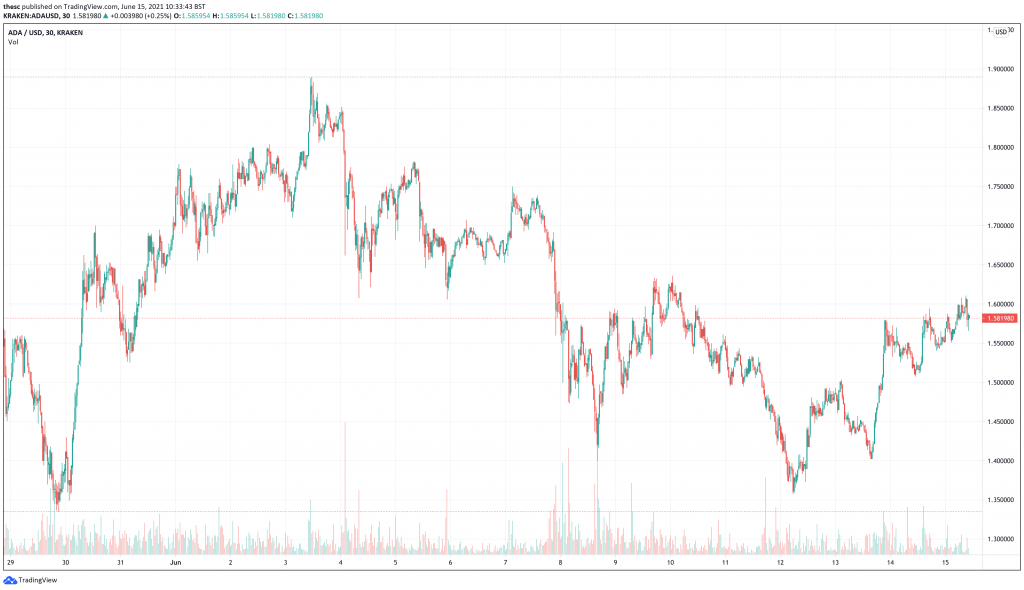 The main reason to be confident about ADA in the longer term is that its recent rises have come with Cardano still in development. It's still in the process of rolling out smart contracts, which will enable it to compete more directly with Ethereum, Binance Smart Chain and other platforms. Founder Charles Hoskinson has also boasted that over 100 companies are ready to move to Cardano once it's mature. While there's no specific evidence of this, the fact that BSC and Polygon have been able to attract apps away from Ethereum lends Hoskinson's claims some credibility.
Smart contracts are expected at some point around August. Once they're deployed, genuine, substantial adoption could increase ADA's price significantly.
4. Buy Ripple (XRP)
Ripple (XRP) hasn't risen quite as strongly as other cryptocurrencies in the wake of the latest movements. At $0.883, it's up by 1.5% in the past 24 hours, and 7.3% since Musk's tweet. It's also 'only' 363% up over the past year.
However, this relative underperformance is why XRP is arguably one of the best cryptocurrencies available to investors. The fact that it hasn't recovered as strongly as other coins suggests, at least in its case, that it has plenty of scope to rebound in the near future.
Ripple's case with the SEC is the biggest determinant of this future. While the opening of this case in December 2020 seemed catastrophic at the time, the mood has now changed. Ripple CEO Brad Garlinghouse has spoken of his confidence in recent months, with several independent legal experts backing up his claims. For example, crypto-focused lawyer Jeremy Hogan has spoken on numerous occasions of how he doesn't think the SEC's case is particularly strong.
It's at the very end of this letter: the second time we see the SEC's realization that this case could produce very bad legal precedent for it in the crypto space, vis a vis the Fair Notice defense, and pleading (literally!) with the Court not to let that happen. https://t.co/9v9Aa71XS1

— Jeremy Hogan (@attorneyjeremy1) June 10, 2021
While a summary judgment in the case isn't expected until December or January 2022, a favourable outcome would boost XRP massively. This reason alone qualifies it as one of the best cryptocurrencies to buy at the moment.
5. Buy Iota (MIOTA)
Iota (MIOTA) is one of those rare cryptocurrencies which hasn't yet topped the record high it set back in 2017 (XRP being another). It has, however, risen strongly since June 13. Its current price of $1.14 represents a 14% increase over the $1.00 level it stood at when Musk tweeted Tesla's change of heart. It has in fact risen by 7% in the past 24 hours, and 415% over the past year.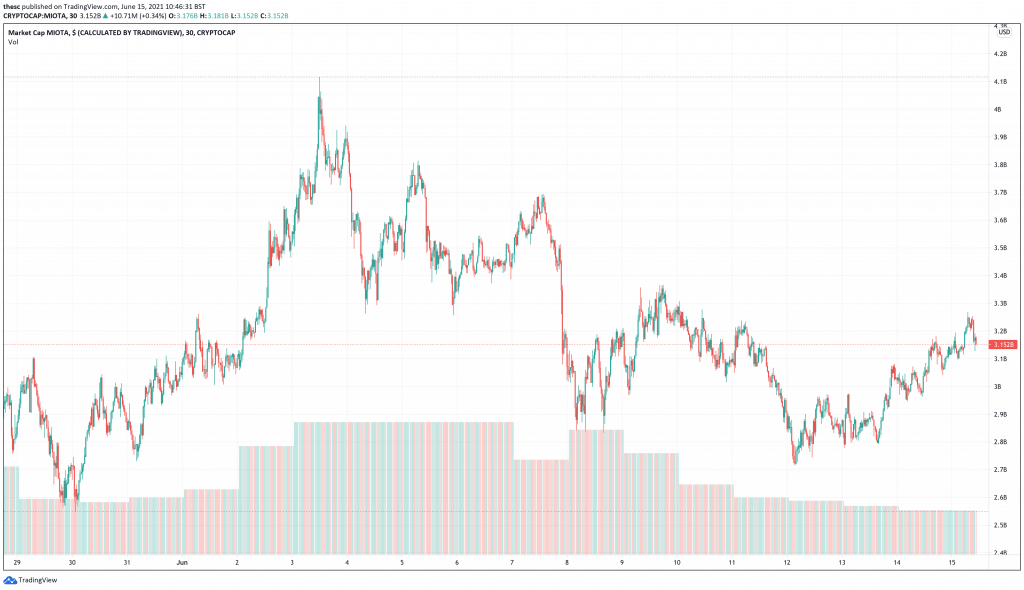 MIOTA's failure to top its 2017 record high during the 2020/2021 bull market is somewhat disappointing. However, it shows there's still plenty of scope for the cryptocurrency to rise strongly in the future. This is particularly the case when the platform underlying it — a blockchain for the Internet of Things — promises to be so novel.
Encouragingly, this platform is making good developmental progress. It launched the developer test net for Iota 2.0 in early June. This promises (among other things) to decentralize the overall platform, with Iota previously relying on a central coordinator.
Iota also continues to announce new partnerships with other organisations. On June 9, it announced a deal with the UK-based Fetch.ai, which applies machine learning to smart technology. And with other partnerships ongoing, it seems well-placed to grow in the future.
Looking to buy or trade Iota (MIOTA) now? Invest at eToro!
Capital at risk