5 Best Cryptocurrencies To Buy For The Recovery – June 2021 Week 4
The cryptocurrency market has rebounded after falling heavily yesterday. Its value has risen back up to $1.41 billion, after sinking to $1.2 billion. At the same time, major coins have jumped by anything from 12% to 37% within 24 hours. This underlines the opportunity for some quick returns as the market recovers. Accordingly, we've highlighted the 5 best cryptocurrencies to buy for the recovery. These offer the chance for short-term as well as longer term gains.
5 Best Cryptocurrencies To Buy For The Recovery
Bitcoin (BTC)
Bitcoin (BTC) frequently features in these lists, and with good reason. It has fallen the least during the recent downturn, highlighting its continued status as the best safe haven in the market, At just over $34,000, its price has dropped by 15% in the past week. This compares favourably to the 21% dives experienced by ethereum (ETH) and Binance coin (BNB), not to mention the 32% decreases suffered by dogecoin (DOGE) and polkadot (DOT).
Bitcoin's dominance has also increased amid the market's bearish moves. It's now up to 47%, having been as low as 39% on May 19. This underlines its role in steadying the market as it goes through a period of recuperation and recovery. And at $34,000, it is now some 45.6% below the 11-year trend price established by Pantera Capital in a recent report. In other words, traders have the opportunity to buy it at a considerable discount, relative to historical indicators of where its price 'should' be.
More generally, bitcoin still enjoys more positive news than any other cryptocurrency. Its adoption by El Savador as legal tender could potentially pave the way for similar adoption. Likewise, MicroStrategy has purchased even more bitcoin as a reserve asset. And Tesla has opened the door to accepting bitcoin in the near future, provided it can prove renewable use of at least 50%. Taken together, this all suggests bitcoin still has the better prospects for wider adoption than any other cryptocurrency.
Cardano (ADA)
Cardano (ADA) has done a better job than most of recovering from yesterday's selloff. Its price hit $1.28 earlier this morning, representing a 26.7% recovery after its plunge to $1.01. It also hasn't fallen as far as other altcoins over the past seven days, with its 19% fall proving smaller than most other cryptocurrencies.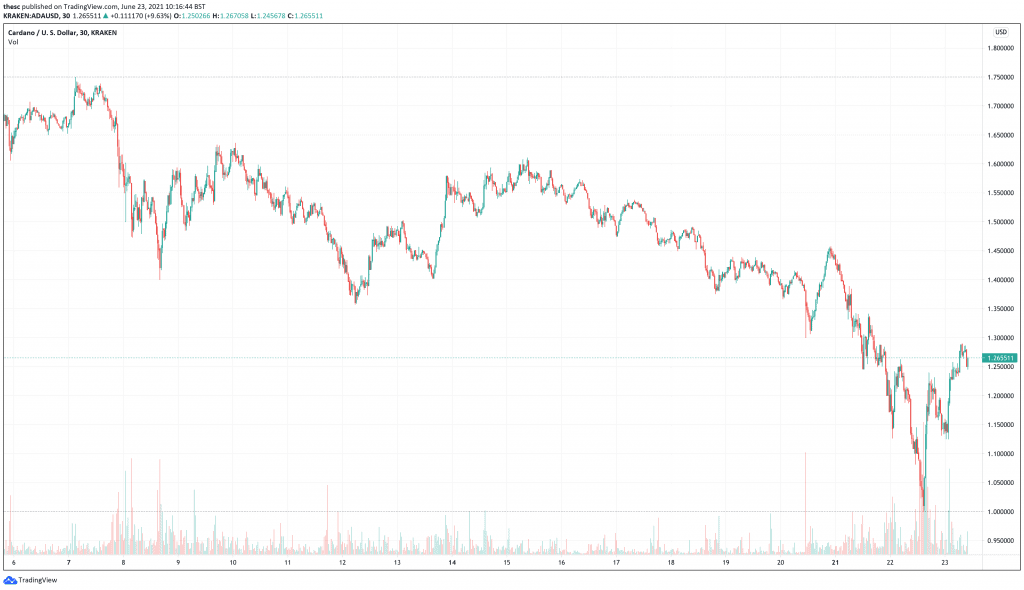 ADA has risen by just over 1,400% in the past year. There's plenty of reason to believe it could rise further in the near future. Most notably, it's on the brink of rolling out its Alonzo upgrade, which will allow it to deploy smart contracts. This update will turn it into a fully fledged rival to Ethereum and other platforms. It will be able to host DeFi apps and other dApps, increasing its potential for adoption.
Today, we are delighted to report we have successfully spun up the first testnet in our #Alonzo rollout. #AlonzoBlue is our early alpha network, providing core Alonzo-node networking capability. 1/2https://t.co/z8shaZeIhq pic.twitter.com/Eg2t9PdM8x

— Input Output (@InputOutputHK) May 27, 2021
Indeed, founder Charles Hoskinson has previously boasted that around 100 companies are lining up join Cardano. There's no proof of this as of yet, but it's likely that Cardano will enjoy more adoption following Alonzo's release. This is why it's arguably one of the 5 best cryptocurrencies to buy as the market recovers.
Solana (SOL)
Solana (SOL) has been one of the leaders in today's recovery. It has risen by just over 36% in the past 24 hours, and currently stands at $31.50. It's also over 4,000% up in the last 12 months, cementing its status as one of the most promising altcoins in the market.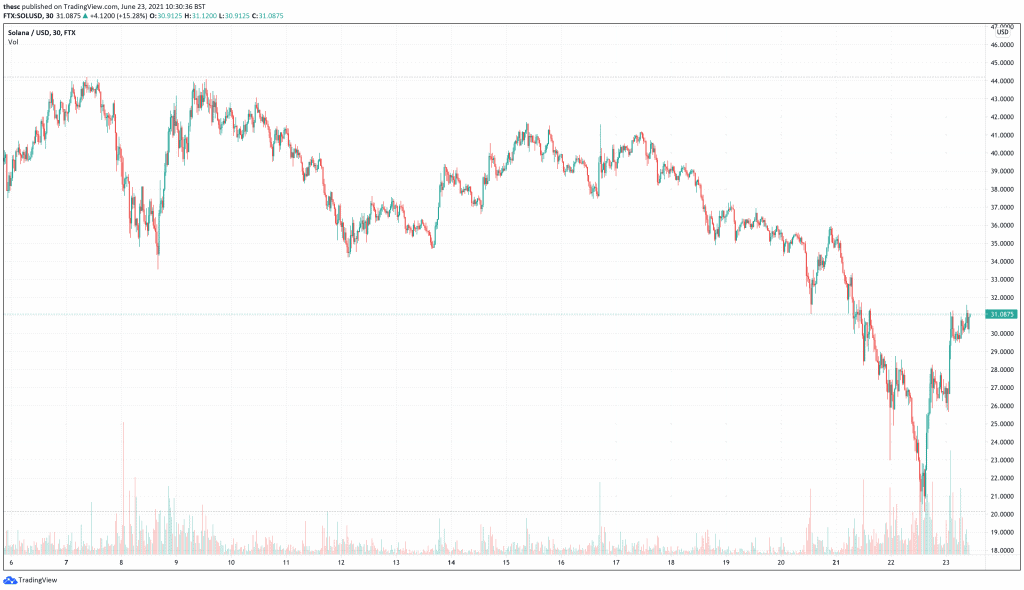 Solana is a blockchain designed to host apps and platforms, much like Ethereum. However, it uses a fairly novel proof-of-history consensus mechanism, enabling it to run at 50,000 transactions per second. This not only makes it more scalable than Bitcoin, but it also avoids the high levels of energy consumption that have tarnished the latter's reputation. A growing range of platforms are already operating on Solana, which reached a total value locked in of $1.17 billion on June 10, prior to the recent crash.
Most notably, it raised $314 million in funding in June via a private token sale, which was led by Polychain Capital and Andreessen Horowitz. It has also been added recently by a wide range of exchanges, with Kraken being the latest.
Trading is NOW LIVE:
@solana $SOL
@ProjectSerum $SRM

SOL is available to stake on Kraken with up to 6.5% yearly rewards! Read our blog to learn more: https://t.co/ZF2KG83y82

* SRM & SOL trading & staking are not available in US, CA, AUS, JP pic.twitter.com/sC6805JRA1

— Kraken Exchange (@krakenfx) June 17, 2021
Uniswap (UNI)
Uniswap (UNI) is another cryptocurrency to watch as the market recovers. It has rebounded by nearly 23% in the past 24 hours, to $18.10. It also hasn't fallen as steeply as other altcoins, with its 24.6% decline over the past seven days remaining smaller than the declines suffered by the likes of XRP, DOGE and DOT. On top of this, it's up by 1,600% since launching on Setember 17, 2020.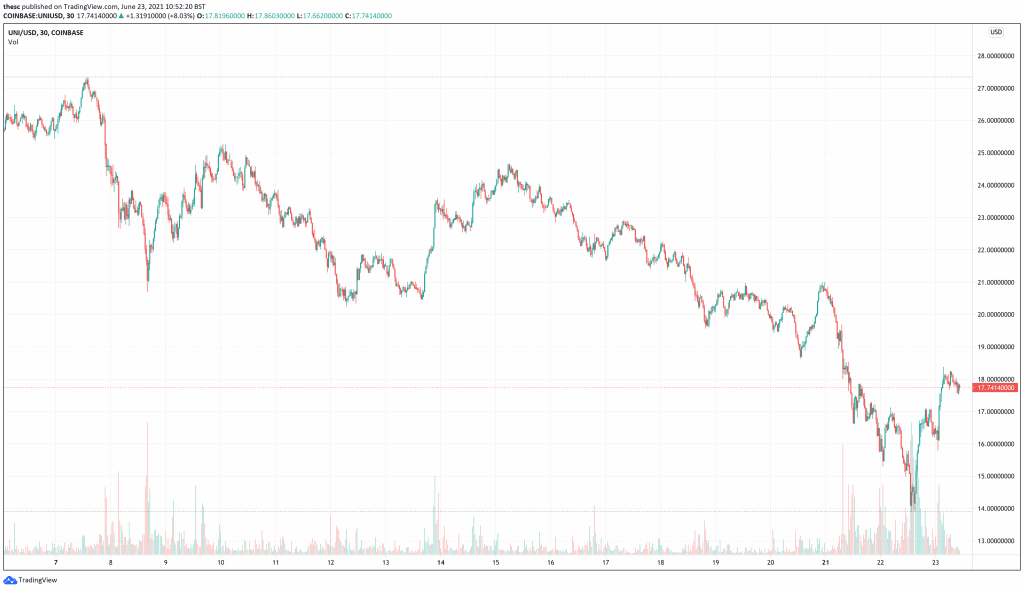 Uniswap remains one of the largest DeFi platforms. It's an Ethereum-based decentralised exchange (DEX) that lets users earn fees for supplying liquidity. It currently counts total value locked in of just over $5 billion. More impressively, it recently became the first DEX to pass $0.3 trillion in total trading.
@Uniswap recently became the first DEX to pass $0.3 trillion in trading!

A year ago it was $0.001 trillion. Year before that $0.0001 trillion. Year before that it didn't exist.

It's absolutely crazy how far defi has come but the most exciting times are still ahead! pic.twitter.com/iunAvi47eb

— Hayden Adams (@haydenzadams) June 18, 2021
Uniswap recently released its Version 3. This will allow for liquidity mining, whereby participants can earn additional UNI tokens on top of the regular yield from providing liquidity.
Excited to announce that this is now the official @Uniswap V3 liquidity mining contract.

New URL: https://t.co/pcmEKEMSIw

Security audit in progress + deployment coming soon. https://t.co/uNAVXVBvca

— Omar Bohsali (@omarish) June 8, 2021
More generally, as the DeFi market picks up again, Uniswap will be one of the platform's leading the charge. That's why it's probably one of the best cryptocurrencies to buy right now.
Dogecoin (DOGE)
Dogecoin (DOGE) had an awful time yesterday. It fell by as much as 40% in a few hours, from $0.28 to $0.168. It now stands at $0.239, having recovered by more than 36% since its 24-hour low. However, the fact that it suffered one of the worst selloffs yesterday could make it one of the best cryptocurrencies to buy as the market recovers.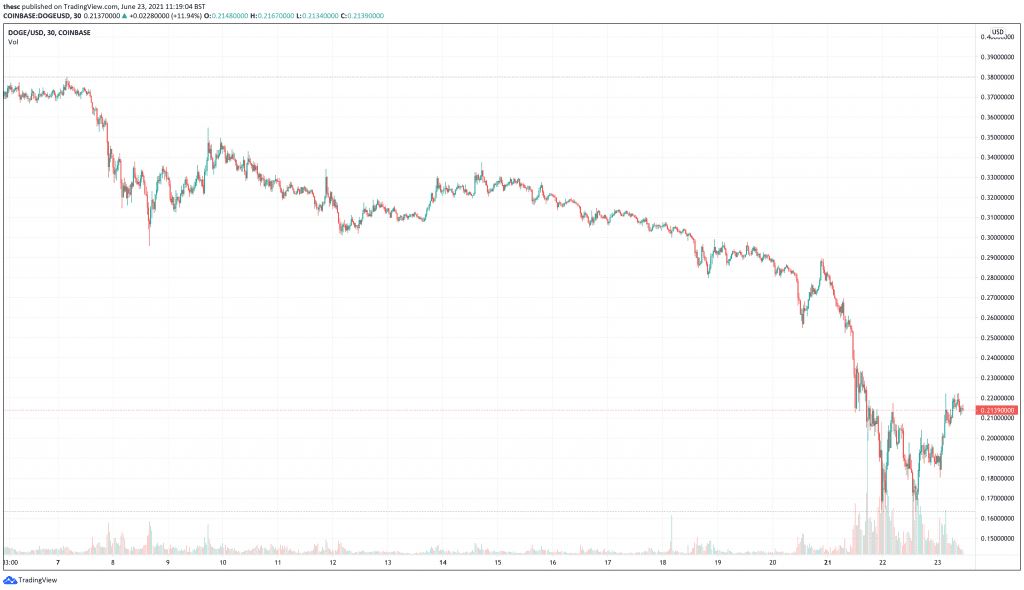 Despite the fall, DOGE is still up by 8,500% over the past 12 months. This highlights its potential as a vehicle for speculation. And with it boasting one of the most committed communities in crypto, traders can never discount the possibility that it may be due for some big short-term surges in the near future. Obviously, predicting such surges will prove extraordinarily difficult, given that DOGE rarely feeds off actual news. Still, if an interested trader does a good job of monitoring Reddit, Twitter and other social media, they may be able to get a feel for when another movement is due.
Powered by WPeMatico