5 Best Cryptocurrencies to Buy at Cheap Prices in June 2021 Week 4
If you are new to the crypto space, it can be difficult to know which cryptos to add to your portfolio to diversify risk. There are over 8,000 cryptocurrencies in the market today, according to Coinmarketcap, and the number is still growing. The choice becomes even harder when you have limited funds that you want to invest with.
If you are on a limited budget and have no idea where to start in crypto investments, this guide is for you. Below is a list of the best five cryptocurrencies that you can acquire at low prices. Each of these tokens has a unique attribute that it brings to the market.
1. Dogecoin (DOGE)
We start the list with one of the hottest cryptocurrencies in the market right now, dogecoin. Dogecoin is a token that started as a joke using memes to mock bitcoin. However, it slowly began to creep up the charts and is currently among the top ten cryptocurrencies in terms of market cap. DOGE is also one of the most promising cryptos you can buy at under $1.
What makes dogecoin unique is that it has a strong support system from its community. Doge supporters push and create hype for the token, which positively affects the coin's price. For example, Tesla's CEO, Elon Musk, has been an agile supporter of dogecoin and even calls himself the 'doge father'. Musk even scripted an entire SNL show to demonstrate support for the token.
After a market crash, it is normal to see investors liquidate or shift their holdings to limit their losses. However, a dogecoin millionaire, Glauber Contessoto, has refused to liquidate his dogecoin holdings even after losing $167,000 following the recent crash. The millionaire's refusal to sell and even increasing his holdings during dips is one of the examples of strong DOGE support.
2. Aave (AAVE)
The third best cryptocurrency to invest in is Aave. What Aave brings to the crypto market is superiority over traditional finance systems. Aave's open-source protocol allows users to lend and borrow digital assets. It offers almost the same thing that banks can offer more securely and cost-effectively.
Aave is still a growing platform, which means that there is potential for growth that may benefit early investors.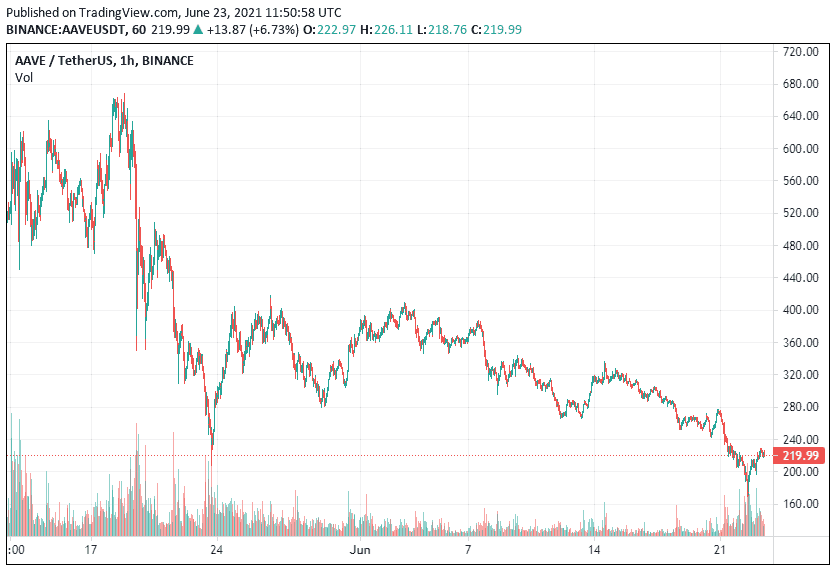 Billionaire investor, Mark Cuban, has supported Aave's potential for growth, stating that DeFi-based cryptocurrencies are a threat to traditional systems. Cuban, who holds a reasonable sum of Aave tokens, stated that the unique features of DeFi-based tokens are what make them "so much more capital and operationally efficient than similar traditional companies." Such beliefs prove that Aave is a good investment.
3. IOTA (MIOTA)
Another cheap cryptocurrency that you can invest in is IOTA. The world is more technology-savvy than ever, and it only makes sense that there is a cryptocurrency leaning towards the Internet of Things (IoT). Unlike other cryptocurrencies, IOTA is not based on blockchain technology but works under its own distributed ledge known as Tangle. This year alone, IOTA has gained by over 200%.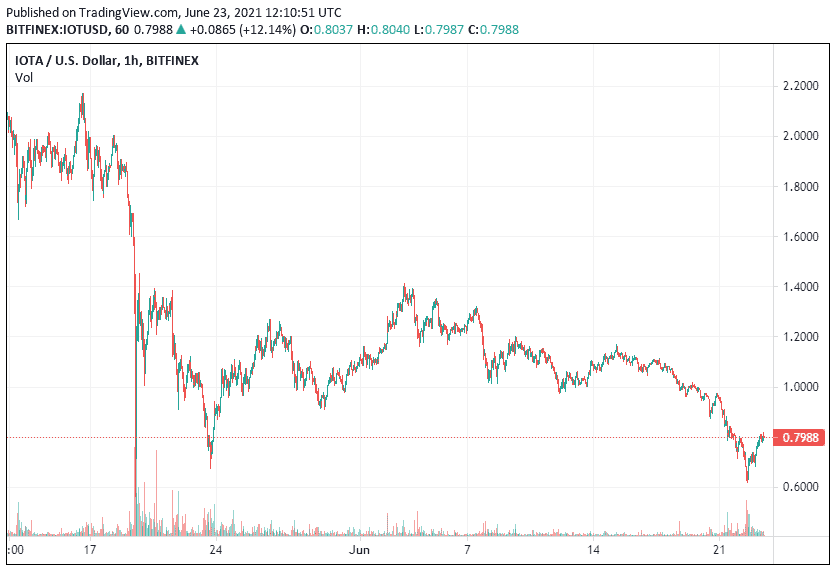 The Tangle mechanism is superior in some ways to the blockchain. First, it becomes more scalable with time, while blockchain becomes less scalable with time. In addition, Tangle eliminates the need for transaction fees. It does not issue block rewards, hence making it cheaper to use than Ethereum.
IOTA's technology may become a solution for the constant scalability issues on blockchain, making it a good addition to your investment portfolio. The best part is that it is cheap; hence, you can hold a high number of tokens.
4.  Chiliz (CHZ)
If you have been in the crypto market for a while now, you may have heard about fan-based tokens. These tokens boost fan engagement, and such an example is Chiliz.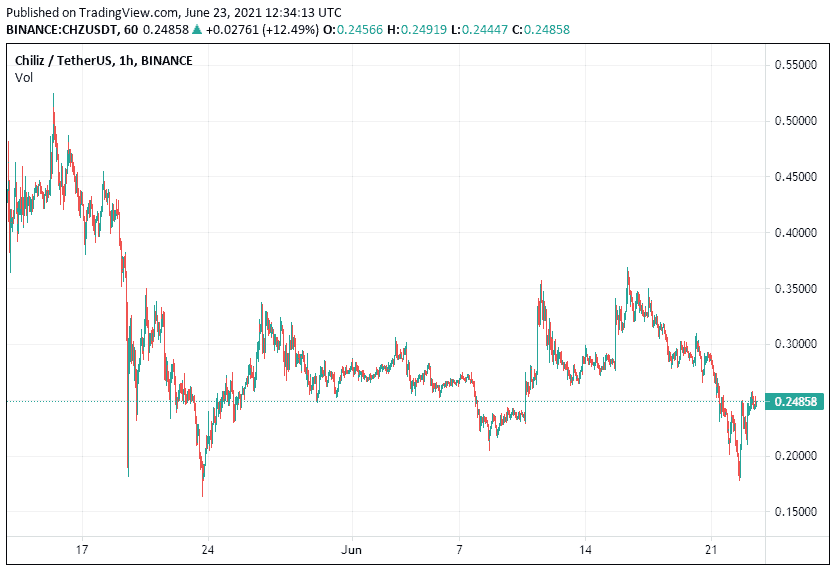 Chiliz blockchain has ventured into a unique area that other cryptocurrencies have not ventured into before. As a fan-based token, CHZ has gained adoption from major soccer clubs such as Neymar's Paris Saint-German, Ronaldo's Juventus, Atletico Madrid and AC Milan.
Fan tokens allow users to vote on the jerseys their favourite team will wear, training grounds and more. Fans also become eligible for rewards and recognition based on their engagement. This is a rare example of how blockchain is transforming the sports sector.
5.  Solana (SOL)
Every cryptocurrency has an underlying blockchain technology that can help the token gain value based on adoption. The second-best cryptocurrency to buy at a low price is Solana because of its powerful ecosystem.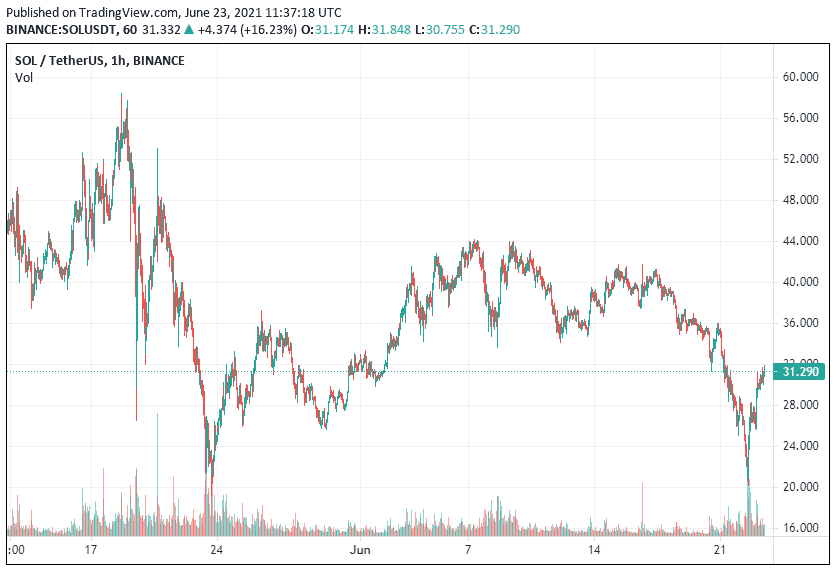 Solana is reportedly launching Solanax, a decentralized finance (DeFi) platform dubbed the 'Ethereum Killer.' If Solanax is launched and becomes fully developed, we might see a huge DeFi migration to the platform as developers seek scalability. The reason why DeFi projects are shifting from Ethereum is the high gas fees and slow transaction speeds.
Solana processes over 50,000 transactions per second and offers lower fees than Ethereum. When developers start streaming into this platform, it will create great value for SOL tokens for the long term.
Powered by WPeMatico